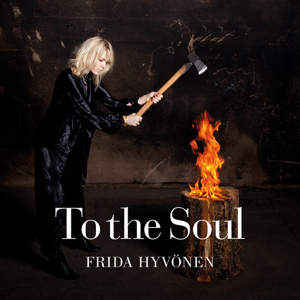 16 July 2012
The first thing to know about the music of Frida Hyvönen, or the thing that always strikes me first, anyway, is that her lyrics are structured like they maybe ought to rhyme, but they don't, mostly. This has generally had the effect of a fanciful gloss on the everyday, The Umbrellas of Cherbourg relocated to present-day Sweden, but the style of her lyrics, to be boring about it, is the result of a practical consideration: Hyvönen's train of thought is too highly associative to be forced into a rhyme scheme. Someone reminds her of Diane Keaton, so she must name her at the very moment; the gas station reminds her of the site's former dance palace, where women discovered rock 'n' roll in 1958 and lost their heads and danced; etc. This is the implied subject of all her songs, women in raptures over music, and To The Soul's most straightforward exploration of that theme, the spectacular opener "Gas Station" (a historical survey), also contains the album's first and most memorable exception to the non-rhyming rule: "They sighed and they screamed, they twisted like ants. They walked around in their underpants." An orchestral swell greets each of the young women's rock 'n' roll epiphanies, each surrender to dancing.
Hyvönen's frequent emphasis on the ecstasy of dancing ("Dirty Dancing" was the name of the opening track on her previous album, 2008's Silence Is Wild) casts her as a lifelong music lover, but the seeming spontaneity of her poetry forces us to ask whether we understand her as a musician first. She often brings to mind a young Patti Smith, in the early years when she'd assembled her band and was surprised by how good the music was turning out to be, word and performance having been the initial premises of the enterprise. But unlike Smith, who kept clear spaces on her early albums for the performance of her poetry, Hyvönen is always backed by some strain of popular song, and the backing is always either the thing that inspires her, or the thing that must restrain her so she can break free from it, subtly disrupt its meter. And somehow I'm always surprised, like Smith in thrall to her new project, by the power of Hyvönen's music, by its completeness unto itself.
When Hyvönen's in the grip of that music, she will sometimes honor it with a rhyme. To The Soul is, among other things, a catalog of those moments. On "The Wild Bali Nights," as the stray, emotional beats of the drum search for a method of organization, she offers a brief image, a suggestion that sound needs no method:
Rising from the ground
Was a clicking, sucking sound.
On "California," she rhymes the title place with "social media," stepping into Jens Lekman's domain of charmingly awkward topicality. She writes love (and other) songs with the kind of specificity that most don't dare. And finally, on magnificent album closer "Gold," she tells the story of a wedding ring, and a marriage in the spring, and as if embarrassed by the plainness of her rhyme, as if by calling attention to it she can apologize for it, she delivers the rhyming word, "spring," on a high, fragile note. Maybe she's simply trying to steady herself for the long tale she has to tell. The plain rhyme is the point of no return. I won't ruin its twists and turns, but in its attention to story, character, place, "Gold" is on par with Silence Is Wild's masterpieces of orchestrated thought like "Dirty Dancing" and "London!"
"Gold" has plenty of sadness in it, but it's warm and it floats, and the entire album, absent the sometimes cavernous and lonely spaces of Silence Is Wild, is much lighter on its surface. Even the dirge track "Enchanted" wears its title appropriately. Hyvönen remains haunted, though, this time by her place in a lineage of women. She sings about the hands of her mother, on "Hands," and the death of her grandmother, on "Farmor." On that epic rumination, the woman is as delicately arranged and strangely beautiful in her casket as the swabbed and peaceful Clutters of In Cold Blood: "In a snow white coffin her dead body lies, a thin ivory skin with freckles, woven hands, bundles of flowers and a fine pearl necklace." Hyvönen goes on to confront the mysteries of ages, imagining her grandmother's youth and her own old age. Much of the album plays as a tribute to grandmother and the world she inhabited, ticking along with the slow momentum of a vanished, bustling past, rich with the kind of ethereal luxury found on Mercury Rev's Deserter's Songs. If To The Soul is light, it's light with ghosts.
There was swirl of imaginative pop music coming out of Sweden in the middle of the last decade, and it could be hard to separate the momentarily diverting from the truly inspired. In hindsight, it seems obvious to me that the two greatest songwriters to emerge there in the past decade are Sarah Assbring, better known as El Perro Del Mar, and Hyvönen. Assbring announced a new album last year, which with its audacious title, Pale Fire, and proposed conceptual ambition, promises to be something. It's still forthcoming, hopefully not for long, but in the meantime, To The Soul can stand as this year's most luminous pop album. "What happens to the soul?" Hyvönen asks on "Picking Apples," completing the album's title, and the answer, for lucky ones like her at least, is that it goes through all kinds of crazy contortions for love ("Command distract me, command interact with me, command fuck me up with your wicked love," helplessly demanded late on the album) but always retains its basic shape.
comments powered by