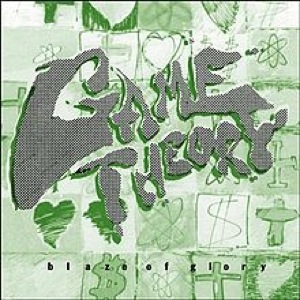 20 August 2014
Kudos to the music fans at Omnivore Recordings. Following welcome releases by Jellyfish, Lone Justice, Camper Van Beethoven and Dream Syndicate, the label now fills a longstanding void by launching its series of reissues by the late, great Game Theory. Essential albums including 1985's Real Nighttime, 1987's Lolita Nation and 1988's Two Steps from the Middle Ages have been out of print for decades.
Demand among the Northern California band's cult had been percolating for many years, with even copies of Alias' 1993 reissue of The Big Shot Chronicles selling for exorbitant prices. The tragic loss of songwriter and frontman Scott Miller last year only served to increase interest in his music.
Omnivore's first Game Theory release is an expanded edition of the band's 1982 debut album Blaze of Glory. Miller's writing appealed to the 1980's college rock crowd with inventive wordplay and intellectual depth, but songs like the frenetic "White Blues," pent-up and frustrated "All I Want is Everything" and hard-bouncing "The Young Drug" were visceral as well.
The plain-sung psychedelic pop of "Date With an Angel" may not reveal as much of the Velvet Underground's influence, but common threads connect it to the Paisley Underground scene and writing of Dream Syndicate's Steve Wynn, who was a college roommate of Miller's at University of California Davis. A new twenty-four page booklet included with Blaze of Glory features anecdotes from Wynn, manager Dan Vallor and many bandmates.
Vallor and Game Theory bassist Fred Juhos assess Blaze of Glory to be fresh and untouched by the knowing cynicism that crept into Miller's later work.
The album's original dozen tracks are expanded on CD with fifteen bonus cuts. The throbbing "Another Wasted Afternoon," buzzing and overdriven "What's the Matter," cowpunk twang of "Beach State Rocking" and intricate "The New You" are included from Alternate Learning. In addition to Miller, the pre-Game Theory band included siblings Jozef and Nancy Becker. Both were part of different Game Theory line-ups.
Although the sound is rooted in a propulsive, guitar-based jangle, Nancy Becker's period-appropriate synthesizer chords and countermelodies punch through tracks like "Sleeping Through Heaven." Juhos' bass rumbles ahead of Miller's hushed voice in the mix, while Miller sings with growing confidence in a way that suggests facing fears and emerging victorious. "I wanna go bang on every door," he sings defiantly, "and say, 'Wake up you're sleeping through heaven.'"
Mike Irwin's assured drumming on "The Girls are Ready to Go" suggests affinity for Elvis Costello and Joe Jackson. Although that pair of gifted punk-pop lyricists were influential to Miller (or Costello, at least), he didn't throw the same sort of bravado. "I never wanted to be tough," he admits on opening cut "Something to Show."
The production reveals the album's low-budget origin, but that lends Blaze of Glory its personal, handmade character. Omnivore's restoration from the original tapes and original mix is clean, clear and full-bodied, enhancing the album without fundamentally altering it. It is fortunate that the original masters were not subjected to the stress tests documented in the humorous "Scott Miller Testing Laboratories" bonus tracks.
The original twelve-song Blaze of Glory will also be available on vinyl for the first time in thirty years – although it will appear in a handsome cardboard sleeve rather than a white trash bag with label attached as originally done to save cost in 1982. Fans of The Loud Family, early R.E.M., Dream Syndicate, Let's Active and Big Star that somehow missed Game Theory shouldn't be without this album, or the reissues to follow.