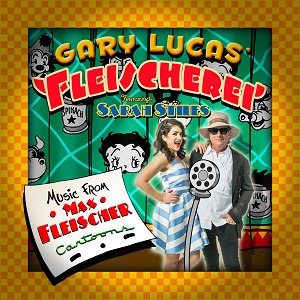 3 February 2016
Captain Beefheart/Jeff Buckley collaborator and prominent solo/session guitarist, Gary Lucas, rekindles his love of soundtracks with an enthusiastic tribute to the Betty Boop and Popeye the Sailor cartoons that so shaped his upbringing.
Music from Max Fleischer Cartoons celebrates the songs that accompanied Fleischer Studios' early 1930s animation. Joined by trombonist/co-arranger Joe Fiedler, Jeff Lederer on woodwinds, bassist Michael Bates and drummer Rob Garcia – all experienced jazz veterans – Lucas interprets the songs with the same goofy exuberance that characterizes the original recordings. Vocalist Sarah Stiles fully embodies the spirit of Mae Questal, the original voice of Betty Boop and Olive Oyl, seamlessly shifting from the former's sexy flapper squeak to the latter's neurotic wooing as the tracks unfold. Lucas, however, completely steals the show with his incredibly fluid, dexterous fingerpicking, which sounds at times like he has more than two hands attacking his guitar. It all culminates in a full recreation of an entire Popeye cartoon, Beware of Barnacle Bill, complete with dialog and musically channeled sound effects.
The best art comes from passion, and, listening to these songs, there can be little doubt that Gary Lucas and his Fleischerei absolutely love what they are doing. Become a kid again, if only for three quarters of an hour.
comments powered by