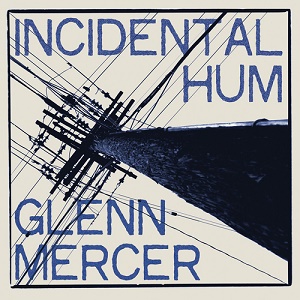 6 October 2015
Feelies guitarist/vocalist, Glenn Mercer, builds on ideas explored with bandmate Bill Million in their side-project, The Willies, on his first solely instrumental solo album.
With song titles named after cities across America, Incidental Hum comes across less as a collection of music and more a sonic photo album that places us in the center of a three-dimensional setting where we can sit back and observe unobstructed. Guitars, bass, keyboards and drum patterns, all performed by Mercer, build atmospheric soundscapes, snapshots of emotions taken on a long, arduous journey through interstate highways. Where "Yuma" nods to spaghetti western soundtracks and "Hermosa" evokes the surf culture of the Southern California town, the majority of the tracks hold their roots in krautrock, particularly the sprawling, pastoral recordings of Harmonia. Even when the music turns to covers – "Over the Rainbow" from The Wizard of Oz, Brian Eno's "Here Come the Warm Jets," "Third Stone From the Sun" by Jimi Hendrix – all interpreted instrumentally, Mercer's droning keyboards and dreamy guitars recall the headspace of Teutonic psychedelia. It's emotional music, but not sappy, as the sound of memories and the feelings they conjure.
For forty years, Glenn Mercer has made a name for himself as a widely respected and admired underground guitarist, but he still records music at home by himself simply because he loves it. Join him on his humble tour through our magnificent countryside.