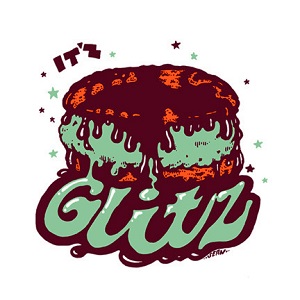 6 December 2013
For what is very likely their first non-European release, White Zoo brings us San Francisco's Glitz, a group who sound like they walked right out of the pages of Please Kill Me.
It's Glitz is a straight-up, no-frills '70s rock record, the kind you'd hear from a band like The Dictators, who grew up worshiping The Flamin' Groovies, Stooges and MC5 so much that they just had to form their own band. There's Johnny Thunders swagger in "Innosense" and "(She) Don't Listen to Music," Lou Reed sneer in "Punktual Punk" and a driving Radio Birdman vibe in "Paranoia" and "Good Day." It's not everyday you get to hear a band that sounds like all your favorite bands and actually pulls it off with gusto and sincerity.
At a time when '70s-infused rock bands are all trying to be Black Sabbath and Led Zeppelin, it's nice to know somebody's out there doing the other stuff that didn't get the radio airplay, "the other classic rock" that is as comforting as it is awesome. It's Glitz! Damn right it is, and don't you forget it.
comments powered by