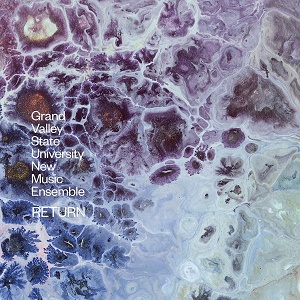 3 November 2017
For eleven years, Michigan's Grand Valley State University New Music Ensemble has received deserved accolades for their interpretations of Steve Reich and Terry Riley. Now the group comes full circle with an astounding album composed by three of the University program's graduates.
Return achieves a longtime goal of director Bill Ryan by proudly presenting the works of alumni Adam Cuthbert, Matt Finch and Daniel Rhode, who together form the experimental collective slashsound (sic). As to be expected, the tracks revel in the minimalism of heroes like Riley and Reich, though through an electro-acoustic vision, they take on a wide range of experimentalism. Much of the music recalls Vangelis' airy, ethereal soundtrack to Ridley Scott's brilliant film Blade Runner (1982), though bits here and there get into heavy Reich-ian repetition while elsewhere percussive drone becomes a fusion of early krautrock and Tod Dockstader. It breaks down the boundaries of time to create something that respects the past while wholly residing in the present and even future.
On their fourth effort, GVSU's New Music Ensemble has looked inward for inspiration and found a multitude of possibilities. The light-bulb is on, folks; let's make some noise!