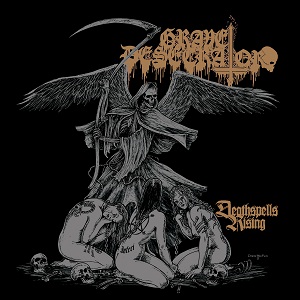 11 July 2012
With this collection of rare early releases and previously unreleased live and rehearsal recordings from Brazil's black/death/thrash barbarians, Metalhit.com finalizes its most recent trilogy of South American extreme metal. (Read about Bestial Holocaust and Poisonous here and here, respectively.) And what a way to end such a marvelous string of recordings.
Deathspells Rising opens with Grave Desecrator's first demo from 2001, known only as Demo 01, and the following Cult of Warfare and Darkness 7"EP from 2003 (also including the two rehearsal tracks from the 2004 cassette reissue). As to be expected, these recordings are incredibly raw, but in a good way, like early '80s hardcore, where the underproduction actually seems to add to the already excellent songs. F. Mordor, vocalist on these two releases sounds like a cross between early Varg Vikernes and Maniac on Mayhem's Deathcrush. Overall, these songs have a very Dead-era Mayhem feel to them, especially with the various drummers' Norwegian Hellhammer worship.
Several live versions of songs from Sign of Doom follow, and with guitarist Butcherazor on vocals, the songs take on a much more Sarcófago-like tone, which continues through the remainder of the album. That said, these are absolutely stellar recordings of excellent songs that really showcase the band's talent. A solid cover of Bathory's "Sacrifice" pays homage to the first wave of black metal, while a chaotic, possibly live, new track with the current lineup – that honestly sounds like an early demo recording – ends the compilation on a high note.
Due out July 31, this will be the first domestic issue of this magnificent release. Thank you Metalhit.com!
comments powered by