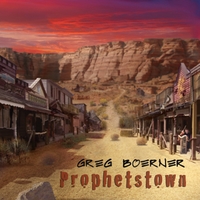 3 November 2011
Greg Boerner is a natural troubadour. His personality as a singer-songwriter and finger-picking skills are the coveted kind that can bring a chattering room to hushed attention with just voice and acoustic guitar. Though he's crafted more intricately decorated arrangements in the past, his new album Prophetstown comes closest to witnessing the artist in the wild. If you're unable to catch one of his many pub (or library, or street corner, or …) shows near his hometown of Naperville, IL, or one of his daily lunchtime sets at local Potbelly restaurants, here's a way to bring Greg with you.
"Honey B" is Prophetstown's jauntiest tune, a lighthearted ode to love and rediscovery that wouldn't have sounded out of place in Chet Atkins' repertoire. "Potbelly Blues" is a limber, walking blues instrumental with a swing in its stride. With a slightly darker edge to its folky sway, "For You" finds Boerner determined to win his sweetheart's affection by any means necessary. If she's not going to give her heart away, he's willing to steal it.
The album's occasional embellishments are used to great effect. A spectral lap steel guitar reflects the haunted atmosphere of "Fallen." A watery electric guitar drips crocodile tears as Boerner answers an unnamed fault-finder during "Disappoint You." At its most overt, a swampy Stratocaster colors the strangely inviting surroundings and cast-off characters found in the "Hong Kong Café."
A handful of these songs find Boerner on the lonely road with miles to go. "Down" is coiled and tense, as Boerner tries to shake the feeling that "something somewhere just ain't right." "Just Can't Get You Out of My Head" is desperate and brooding, as if Boerner's driver persona is fighting toward a destination but should have succumbed to sleep hours ago. At the point when others might have piled on extra frills for the dangerously loud guitar solo, Boerner pulls in close for understated acoustic blues licks that cut like a knife.
Of all the songs on Prophetstown, the wonderfully self-deprecating "This Ain't Me" is the one that cries out for a honky-tonk rhythm section and loping country shuffle. Boerner stares down the mirror and his faults with stubborn denial. Ultimately, Boerner finds himself "singing a new song." He may not recognize himself, but it sounds like he'll enjoy getting to know the new guy. You will, too.
Find Greg on the web at gregboerner.com.