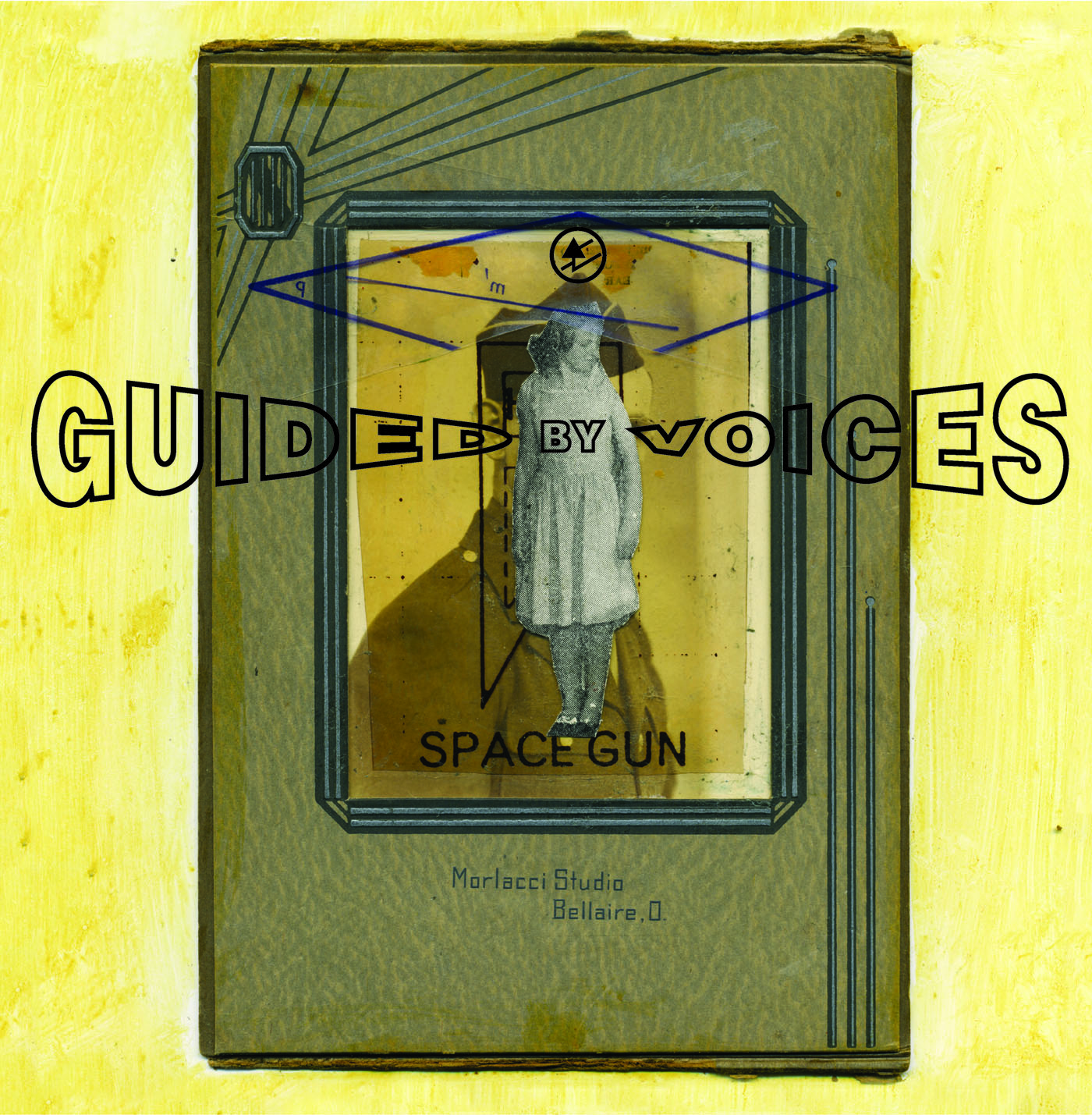 10 April 2018
Robert Pollard's Guided By Voices outfit is comprised of a casually rotating cast of characters and a discography with annotated discrepancies abound that grow greater as the years and their productivity endure. To put it scholarly, Space Gun is the post-classic-lineup-reunion's third full length—25th overall—featuring players both familiar (drummer Kevin March and guitarist Doug Gillard) and relatively new to the lineage (guitarist Bobby Bare Jr. and bassist Mark Shue). One thing to be sure of no matter who backs him, be it the seasoned professionalism of ex-members of Cobra Verde and Shudder to Think or the youthful presence of Shue: Bob will be Bob.
This album is consciously leaning towards a prog ethic, making felicitous use of the runtimes allotted to its tracks by filling them with grand ideas, and in only enough seconds to merely suggest them. "Hudson Rake" takes a page from the Sandbox cut "Common Rebels" and builds to a thrilling conclusion in under two minutes, accumulating an avalanche's worth of snow from what seemed a light flurry. "Sport Component National" begins energetically with the band moving at a brisk tempo before pausing for a lo-fi segue of a sparsely accompanied Pollard, soon returning to its original stanza, only to then meander onto two more distinct sections. It's an odyssey in under three minutes; the experience reminiscent of "Back to Saturn X Radio Report," although this medley is less jarringly transitional. Packing so much into such small packages doesn't come off as overstuffed—it's an effect akin to successfully summarizing and, to a degree, tantalizing an especially exciting hour of television.
The needlelike, Nuggets -esque treble of those first notes to "See My Field" harkens back to past British Invasion-inspired numbers like "Navigating Flood Regions" and "Queen of Cans and Jars," igniting fireworks in its procession. A good metric for what makes a GBV tune a certifiable rocker is whether or not you could picture Pollard executing one of his infamous high kicks to punctuate a downbeat. With that stipulation in mind, "Field" makes for a fine addition to the already vast collection.
Despite the plentiful rocking on Space Gun, the record embraces an equally steady relationship with breezy acoustic guitar-driven songs. One of which is highlight "I Love Kangaroos," wherein Pollard opines, "I am if nothing a boy with balls." While the next line assures that he does not speak anatomically in this instance, the phrasing nonetheless reasserts his status as top contender for court jester in the royal family of indie rock. Along with the similarly operating "That's Good," these neo-classics allow fans to appreciate the rarely (as of late) mellowed side of GBV.
Space Gun ranks as another worthy installment to the canon, prolonging fans' bafflement over the songwriting fuel still left in Pollard's tank. The man's non-sequiturs ("I lost an umbrella searching for you in a shit storm") are still delivered with his clever ease. Small gestures here and there help keep the record's identity above water like the orchestral bits in "King Flute" and "That's Good," but never so much to deem it an outlier in the catalogue—only adequately so, to ensure that the frequency of their output isn't due to phoning it in but rather the miracle of dedication. Here's to 25 more.
You may purchase the record here.