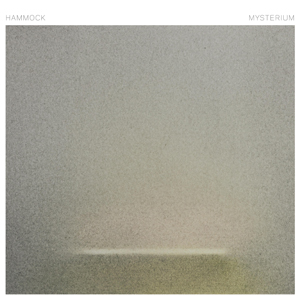 13 August 2017
Hammock returns with their eighth full length album, the stellar Mysterium, a far different release than the joyous Everything and Nothing that appeared in April 2016. It's a sad affair, punctuated in parts by rays of light, but laden heavily with the death of someone close to co-founder Marc Byrd. It's never been easy to pin down these dreamy skygazers, as their music transcends genres and mashes up a dizzying array of influences. As their press release states:
Mysterium is a requiem, in both tone and scope, elegantly merging the duo's modern classical and ambient music instincts with choral flourishes inspired by the Nikolaï Korniev, Arvo Pärt, and Morten Lauridsen. Piercingly solemn yet hopeful, the record is of a piece with recent collections by Max Richter and Jóhann Jóhannsson, and it was produced with a cross continental team that included the Berlin mix engineer Francesco Donadello (Winged Victory for the Sullen, Ólafur Arnalds), the Hamburg film orchestrator Roman Vinuesa ("Iris," "Umrika"), and the Nashville string orchestrator Bobby Shin (Dolly Parton, Trey Anastasio). Mysterium, which features the 42-member Budapest Art Choir, was composed as memorial to Clark Kern, a son-like figure to Hammock co-founder Marc Byrd who died in 2016 from the aggressive tumor strain NF2.
Hammock's music is all about the emotion swirling through these compositions, and whether you call it post rock or dream gaze or even drop the term polymath in passing, there are multiple layers here on these long tone poems. For exquisite works of art they are, with stunningly gorgeous instrumental passages chock full of strings and horn sections. Just listen to the title track to see what I mean, it's quiet and deeply stirring music, and even as the grief of passing wells up in you, you cannot help but be at peace. It's music that demands attention and a great set of headphones, as I've discovered while attempting to hear this in my car! But now, I am giving the release my full attention and I feel myself unraveling as the music blooms in my head. "Mysterium" in particular is astounding, and the choral work is a fitting coda.
Counting back to the first track, "Now and Not Yet", is like the dawning of a new day. The tune is both familiar and comforting, wrapping itself around your ears like an old friend. "When the Body Breaks" is a deeply sad, ambient selection, with plaintive piano flitting through. The song was co-written by Matt Kidd of Slow Meadow, who also contributed all piano parts on this release. "Things of Beauty Burn" is a hushed masterpiece with the slow mournful scrape of a cello and the lovely addition of choral work. I sense a repeating theme in the piano near the song's end. "I Would Give My Breath Away" is mystical and sacred, suffused with love and a sense of wonder as voices soar along with rainy motes of piano.
"Remember Our Bewildered Son" is elegiac and graceful, somber and stately as it works its magic on you. There is no other band that can pierce through the veil like Hammock does, darting straight to the emotional heart of it all. "Dust Swirling Into Your Shape" forms in my mind, a sonic sand storm filling in footprints as if they never existed. Yet, a mark has been made and will never be forgotten. It resonates, for every one of us has experienced trauma and loss, and some of it stays with us forever. "Numinous", which means having a strong religious or spiritual quality, certainly describes the essence of this piece. Joy lifts your spirits and buoys you, even as your inner self crumples in despair. I can find no other way to describe the experience I have while this song inhabits my brain. You must move forward, one step at a time. Linear time demands it, even while our brains spiral into the cosmos. "For My Sister" is comforting and slightly trippy at its edges, taking you in as it enfolds you. The guitar passages are beautiful, and it puts a slight but uncertain smile on my face. "Elegy" is what you'd expect and is awash with dark ambience. But don't let its quiet, melancholic inrush fool you, there is light in abundance woven through this piece. Stunning! "This is Not Enough (Epilogue)" is dreamy and brilliant, with pretty vocals and a luminous backdrop. A great way to end this contemplative, sacred, and evocative recording from one of the best instrumental groups in existence. Highly recommended!
Pick up the album over at Bandcamp and catch up with them on Facebook.