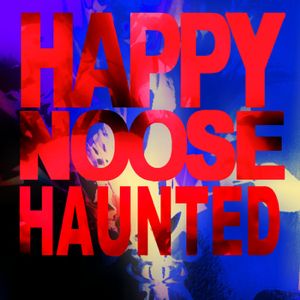 29 June 2013
Two years removed from a self-titled debut LP that flew mostly under-the-radar — though it did capture the affections of notoriously ornery critic Everett True — moody Olympia, Washington pop-rockers Happy Noose return with eight new songs, separated into a pair of seven-inch EPs presumably meant to showcase their lighter and darker sides.
The multi-generational three-piece's makeup is intriguing. Drummer John Dahlin fronted Seattle crossover thrash act The Accüsed for a spell in the early 1980s. More recently, guitarist Timothy Grisham and singer-bassist Ryan Scott played in Aires and Graces, an Olympia-based Oi! band.
At first listen, the members' pedigrees seem to have little bearing on the music they're making today, yet their execution is characteristically tough and no-frills. For comprising familiar punk, indie-rock and darkwave influences, Happy Noose's sound is surprisingly hard to pin down.
Produced by California analog übermensch Tim Green (The Fucking Champs, Nation of Ulysses), both 7"s — Haunted and Amagosa — beam with overdriven VOX amplifier warmth, straightforward, in-the-pocket drumming, and understated melodies. Compared to the mixed-bag Happy Noose — released mere months after the band formed — the new songs show marked improvement, particularly in the vocal department.
Where Scott's '90s pop-punk-inflected drawl rendered the group's 2011 debut somewhat anonymous, on the new EPs he tries an uninhibited baritone warble no doubt inspired by a pair of '80s Ian's, Joy Division's Curtis and Echo and the Bunnymen's McCulloch. It's a subtle yet appropriate change for Happy Noose's alternately morose, upbeat songs, transforming the band's whole vibe for the better.
Haunted's driving title track takes top honors, its descending octave-chord riff recalling 1989 Wedding Present classic "Brassneck." Also worth mentioning are the jangly "Burning Sands" (also off Haunted) and ambling "Pictures in My Mind" (from Amagosa), which both speed past in under two minutes, not wasting a second.
Less-exciting cuts like Amagosa's gloomy, plodding "Eye of the Storm" beg Dahlin, Grisham and Scott to assert themselves a little more musically. When they do — the unorthodox time signatures on Haunted's "Melissa Brown," for example — it's noticed, notable, and appreciated. In any case, though, both EPs solidly reflect the trio's musicianship, chemistry and good taste.