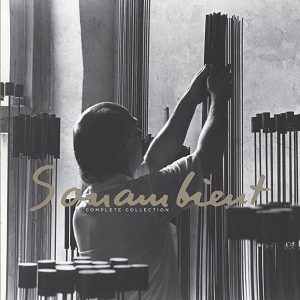 19 November 2015
In the 1950s, renowned sculptor/furniture designer Harry Bertoia had an epiphany when he realized the possibilities of sonic resonance that lived within his creations. He dedicated the final twenty years of his life to the pursuit of sound, eventually releasing his first album as Sonambient in 1970. Ten more LPs would be released near the end of the decade, most of which were pressed after his death. For the very first time, all eleven albums have been carefully remastered and repackaged a single box set with a full color book containing essays, memories and more in a startling tribute to the artist's legacy.
The twenty-two tracks that make up Sonambient flow with graceful fluidity, gently ranging from subtle textures to bombastic crashes. A soft breeze rises to a thunderstorm, and the receding tide becomes a cresting wave. Space and time play their parts as well, allowing the pieces to evolve naturally at their own pace, with silence being just as important to the progression of the narrative. Sculpture comes alive, telling stories of feeling rather than words, memories unfolding as brief glimpses of emotion. Bells from an invisible church chime over glacial tundra, betraying an empty darkness that instantly morphs into a frightening void. In many ways, Bertoia's compositions recall the sinister sound effect symphonies of Tod Dockstader in the icy foreboding they evoke and, like Dockstader, Bertoia also effectively used tape as an instrument, as in "Phosphorescence," where he "plays" counterpoint to a backwards recording. Elsewhere, his metal breathes on its own – the inhale and exhale of a giant sleeping robot, shadows dispersed by rays of shimmering light.
Apparently, Harry Beroia recorded hundreds of more tapes that never got pressed to vinyl. Hopefully, these will be released in the coming years so the world can fully grasp the immensity of his unique sound art.
comments powered by