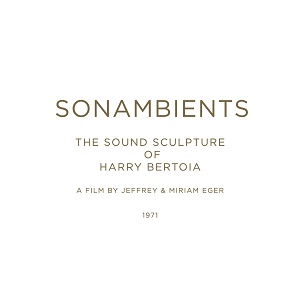 19 November 2017
Four recently discovered archival recordings of furniture designer/sculptor Harry Bertoia join a fascinating documentary short made while the artist was still alive for an essential deluxe release.
The audio half of the package focuses on firsts and lasts. Two tracks recorded by Harry and brother Oreste Bertoia on October 12, 1969 mark the earliest known sessions by the siblings. These seminal tapes document cold industrial textures as the Bertoia brothers jointly explore the possibilities of their monumental sonic palette. Strangely, the internal rhythm recalls the modern day sound art of laptop sound sculptors. On the final two recordings, the brothers are joined by their sister Ave on two separate sessions recorded during the summer of 1972 shortly before Oreste Bertoia passed away. Ave's operatic vocal contribution adds a new dynamic to the mix. Instead of words, she emits notes to compliment the accompanying metallic clang. It's like Diamanda Galás performing in a junkyard to an army of decommissioned androids.
The DVD, on the other hand, gives us a rare visual glimpse into the Bertoia barn. Shot in 1971 by Jeffrey and Miriam Eger, the 16-minute film portrays Bertoia as a very friendly, short, balding, ageing man in colorful clothes who genuinely seems to make these recordings for his own enjoyment. With the sporadic interviews maybe taking up a whole four minutes of the entire film, the remainder allows Bertoia to speak for himself in his homemade recording studio. Here, the shimmering waves, church bell tones and grinding metallics can be identified individually as he moves between his various "instruments" to create his signature sonic pastiche. What's more, this is probably the only time Bertoia performed live for an audience, making it an extemely worthy entry into the artist's cannon.
As Harry Bertoia's unheard recordings continue to be excavated, new dimensions of his artistic prowess emerge. Let these documents convince you once and for all.
comments powered by