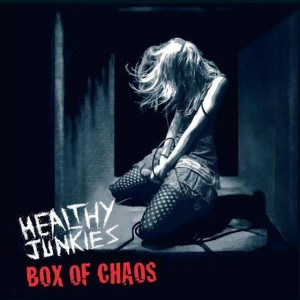 23 January 2016
This six-year-old London outfit's moniker is likely a reference to its beguiling, blonde-haired, breathy-voiced, Brigitte Bardot-evoking Parisian singer Nina Courson, a one-time teenage runaway and drug user who turned her life around upon meeting British guitarist Phil Honey-Jones (ex-Nurotica) in 2009. Their partnership and Courson's newfound musical focus resulted in the writing of a song ("Glam Sister") for a friend's birthday party, followed by the group's 2011 debut LP Sick Note, which I called "engaging and invigorating" in Big Takeover issue 66 (I especially dug its crackling opening track "Copycat"). Their similarly sizzling 2013 second album The Lost Refuge further refined their familiar glam/new wave/grunge-inspired punk-pop, though it was blemished by a too-boomy, drum-dominated mix. This third LP fixes that flaw, placing more emphasis on Honey-Jones's frenzied, feculent guitars, while featuring the band's most fiery, forceful tunes to date. One immediately notices the improved production – by Alex McGowan and the band – on the opening "Nice 'n' Sleazy," with its robust rhythms spitting and sputtering like a chugging locomotive, and Honey-Jones's wind-tunnel riffs squealing and shrieking like swirling cyclones.
On the album's three hottest, most hellacious numbers, "Danny Trash," "Just a Fool," and "Hustle Street," bassist Nim Sadot and drummer Tony Alda (the latest recruits in a regularly rotating rhythm section) dig in hard, discharging more grit and gravel than a throng of throttling motorcycles at a Sturgis rally. Sporting an alluring French accent (she still sounds like a tougher version of Ivy's also-Parisian Dominique Durand, with "echoes" of Echobelly's Sonya Madan) that's vigorous and vivacious, Courson again conjures confidence and charm. And conviction, judging from the album's two punishing, poppier singles, which wrestle with weighty topics. The galvanizing "Je Suis Free" defiantly defends artistic freedom in the aftermath of the November 13, 2015 terrorist attacks on her former home city, while the gurgly "Watch Out" delivers a dire warning against snooping surveillers and divulging too much of your private data online (see video for "Watch Out" below and "Je Suis Free" here).
Finally, to go with their reading of T. Rex's 1973 U.K. #3 "20th Century Boy" on Sick Note, and a terse rendition of Édith Piaf's 1947 "La Vie en Rose" on The Lost Refuge, they close Box with an alternately ghostly and gnashing cover of Wipers' "D-7" (from their 1979 debut Is This Real?; it was also covered by Nirvana on their 1991 Hormoaning EP), revealing their well-rounded tastes. With no letup in the energy level over 14 songs, Box is a boisterous blast; here's betting their self-hosted monthly gigs at Camden, London's Unicorn club are, too. (stprecords.co.uk)
Box of Chaos will be released on February 20.
comments powered by