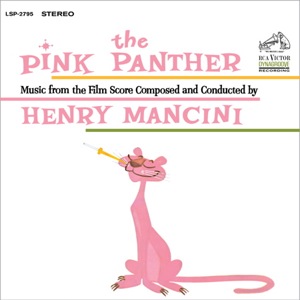 9 April 2014
Record Store Day is fast approaching, with vinyl treasures from indie rockers and heritage labels due to arrive on April 19, 2014. Early birds arriving at their local shops will have first crack at a slew of limited edition titles.
Although store-by-store availability of titles will vary depending upon the venue's focus, Legacy Recordings are offering gems of broad interest that should be represented in most participating record stores. The Legacy roster includes special vinyl titles by vintage alternative rockers The The, Atlanta-based hip-hop duo Outkast, neo-psych indietronica band Mgmt, and several others.
The crown jewel of Legacy's 2014 Record Store Day offerings is a limited 50th anniversary edition of 1964's The Pink Panther – Music from the Film Score Composed and Conducted by Henry Mancini. The artwork and sleeve notes by Peter Sellers are faithfully reproduced, with the most easily noticeable update being a gold-stamped individual number on the back of the jacket. This limited edition is stamped in bubblegum pink vinyl, naturally.
The album faithfully embodies Mancini's era-defining musical sensibilities and most popular theme. Smoky baritone saxophone, slinky piano, swinging drums and swaggering brass punctuate the famous title cut. Mancini's use of accordion as a lead instrument on pieces like the tango "Cortina" and melancholy "The Lonely Princess" combined with classical flourishes and big band instrumentation simultaneously provide a sense of old-Europe charm and nightclub sophistication. "Royal Blue" features a lyrical melody on muted trumpet and languid strings. At age 50, the retro-chic "The Tiber Twist" should still jump start any flagging social mixers. "Something for Sellers" introduces Cuban mambo percussion, piano lounge flourishes and jazz horns to represent the self-assured but bungling Inspector Clouseau.
Mancini's enduring soundtrack enhanced the identity to the classic spy caper and perfectly captured its comical tone. A better marriage of quirky-yet-stylish music and popular film is hard to imagine. The only possible disappointment is that the vocal version of "It Had Better Be Tonight (Meglio Stasera)" included on the album is not the Italian-language version performed by Fran Jeffries in the film's party scene at the lodge.
Visit recordstoreday.com to locate your nearest participating outlet.