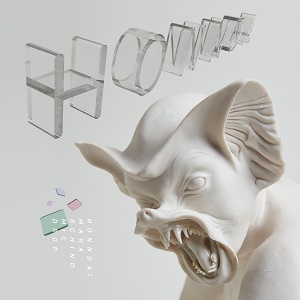 12 April 2018
What if pop music actually aspired to be art? Honnda, aka Brooklyn's Amnon Freidlin (Mouthguard88, Normal Love, ex-Zs), makes it happen on his brilliant collection of spastic cartoon dubstep/house hybrids.
Where modern radio fails us, Maraschino Mic Drop succeeds. Through highly focused sample manipulation and an uncanny ability to twist beats at will, Honnda confirms the conspiracy theory that the Major Label Illuminati only crank out vapid music because they can. Sure this is every bit as fun, danceable and sexually charged as the next song you hear on Power 105.1, but Freidlin digs deeper to deliver a much more satisfying listening experience. His juxtaposing of samples and beats creates a three-dimensional space that draws you right into the center of the ping-ponging sounds until you realize you have no choice other than to move. Even better, he's proficient in many different electronic styles, e.g., dubstep, house, and drum and bass, while "Megga Millionz," a collaboration with vocalist Dai Burger, beats Nicki Minaj at her own game.
With Maraschino Mic Drop, Honnda has placed himself among artists like Neorev who strive for much more beyond four-on-the-floor synchronicity and Sesame Street rapping. This is the future of production.
comments powered by