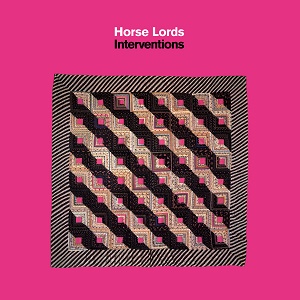 25 April 2016
Baltimore's Horse Lords give Zs a run for their money on their third proper full-length.
Built on the musical concepts of just intonation, minimalism, post-punk and custom instruments, Interventions blurs the distinction between art and rock by exploding with pure ferocious energy. Ultra-syncopated rhythms from drummer Sam Haberman, anchored by Max Eilbacher's rumbling, heavy basslines, propel Owen Gardner's cyclical guitar lines and the tightly controlled saxophone skronk of Andrew Bernstein. Circular in nature, the tracks progress like corkscrews: spinning, yet always moving forward. Experimental interludes – the "Interventions" that give the album its title – pull the instruments away from structured sound into the amorphous territory of noise. The group's power, however, lies in their unity, which exudes the loudest minimalism you're ever likely to hear. Imagine Terry Riley conducting The Mahavishnu Orchestra.
Sometimes, ultra-technical music can get lost in the mathematics, but Horse Lords succeed simply because they know how to rock. Get ready for your new favorite album.
comments powered by