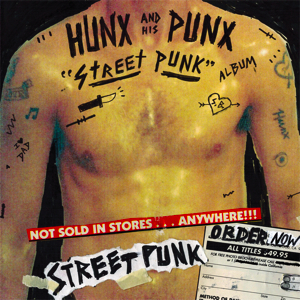 23 July 2013
Is this a joke? Um, no. Or… maybe. These punks have always been tough and funny in equal measure, so it's hard to say for sure. But whatever balance of those qualities they've struck on Street Punk, it pretty clearly stands as an unprecedented, to my knowledge, reversal of the typical career trajectory of even the most deviant punk bands. Everything was going according to plan up until this point, albeit in the poor, crazy fashion of this band. Gay Singles presented something new under the sun, Too Young To Be In Love refined it and expanded upon it, and Hairdresser Blues allowed the singer to step out as a solo singer/songwriter. Judged by the album title alone, Street Punk sounds like overkill, though if the weird wholesomeness of this band's catalog has so far never strayed from the realm of punk, then the word "street" is an essential advertisement of the really foul kind of punk on display here. So, Street Punk is twelve songs in 20 minutes, and in each one Hunx & His Punx challenge anyone who might falsely define them, with the music enacting the message: it's fast, it's rough, and it's impulsive even by those standards. It's surprising they made this album now, but not so surprising that their catalog contains it. Punk bands should always have so much to respond to, so quickly and definitively.
At the extreme end of this new defensive and/or antagonistic and/or violently funny mode are the songs called "Don't Call Me Fabulous" and "Everyone's A Pussy (Fuck You Dude)," both of which clock in around 30 seconds. Yeah, they're short, but also sort of lumbering, riotous in their indifference to the economy striving of much shorter punk songs, like, say, Descendents' "I Like Food" or "Wienerschnitzel." Those were terse, autobiographical slices of life. "Fabulous" and "Pussy," on the other hand, shout their titles a few times (a couple more than their loudness requires) over sputtering bass lines, and form the center of the album's "don't label me" thesis. The latter track's parenthetical might suggest a kind of dialogue, a city scene, but no, these songs are either one-sided attacks or response songs that totally bury the original offense. If your world isn't this band's, then it can shut up for 20 minutes.
The placement of these two songs, second track on each of Street Punk's sides, seems to be the album's only concession to structure. Otherwise, it jumps between a classic Hunx sound (notably "Born Blonde," an ultimate gay single, with proud self-definition and a happy guitar riff to briefly brighten the album's mood) and a dank, early punk sound that's often, in the particulars of its recording, uncannily ancient with bottled fury. Do decades have auras, and if so, from what old jar was "I'm Coming Back" unleashed? The best of this latter, more common type are the songs with vocals by Shannon (sometimes on lead), who is, contrary to her status as one of His Punx, not a supporting player but a real creative force in this band. With her own Clams, she makes expertly detailed late 50s/early 60s rock 'n' roll (see this year's Dreams in the Rat House, which I'd totally believe to inhabit the same musical year as "Handy Man," "I Count The Tears" and "A Thousand Stars"), sometimes tending toward the kind of morbid teenage love songs that Hunx showcased on Too Young. On Street Punk, she's still the resident historian. She can do Poly Styrene, Debbie Harry, Penelope Houston, Joan Jett. She's also just a terrific belter. Thus, Hunx is… Darby Crash, you'd think, though after trying on so many voices on Hairdresser Blues, the idea of Hunx needing to return to tragic figures is a little limiting. And tempting as it is to imagine Street Punk in a 70s context, it's so raw and spontaneous that it's never just going through the motions of some other generation's rituals. Listening to him rant and swear through the title track, it's clear this is his natural form of expression.
Finally, how short is Street Punk? I've listened to it in the time it takes me to walk the few blocks to Blake's Lotaburger, wait for my onion rings, and walk back home. I entered my apartment as Hunx finished singing "it's not easy being me." As an experience, the album's a little longer than that—sloppy but complex music always approaches a kind of infinity, and the band's a pretty considerable noise-making unit by now—but analogous. If a few insults had been thrown my way from passing cars, lost to the din of the music, it would've been perfect.