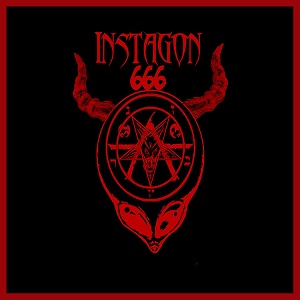 1 July 2015
On October 25th, 2014, Instagon came together for their six-hundred-and-sixty-sixth live performance, which proved to be quite a magical night of music.
Over the years, Instagon has morphed, transformed and remained consistently unpredictable, yet 666 documents what is probably the group's most focused assemblage to date. Led, as always, by bassist Lob, the set begins with ambient sound and slowly builds, a la Miles Davis' In a Silent Way, to a jazz fusion groove. Once the band fully kicks in, however, it's Live-Evil's sinister darkness packed with running bass lines, psychedelic guitars, dreamy Fender Rhodes pianos, maniacal organ and tasteful saxophone. It sounds structured and planned, but it's completely improvised, as is everything by Instagon.
Instagon's extensive discography is admittedly daunting, though, if you're looking for a place to start, this is it. Experience one of the most solid improvised live recordings you'll ever hear and feel thee invokation.
comments powered by