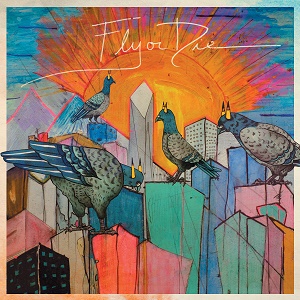 2 May 2017
Having already established herself as a prominent side-player to the likes of William Parker, TV on the Radio and Spoon, trumpeter Jaimie Branch delivers an outstanding debut as band leader that showcases the full range of her talent.
While Fly or Die draws on the classic sounds of the '60s, its sound is purely contemporary. Branch blows brass with Miles Davis' emotional finesse, Don Cherry's electric excitement and Peter Evan's quixotic attack and here, she's on full blast voicing all the love and passion she has for her craft. Drummer Chad Taylor and bassist Jason Ajemian provide the perfect propulsion with beats seemingly rooted in Brazilian polyrhythms to create a hypnotic Can-like groove, while cellist Tomeka Reid adds a classical touch that forays into German extremism. The cornets of Ben Lamar Gay and Josh Berman, along with Matt Schneider's guitar, add a psychedelic tinge akin to early krautrock freneticism. It's probably the most exciting jazz album of the year and we're not even halfway through it.
With strong females like Lea Bertucci, Leila Bordreuil and now Jaimie Branch at the forefront, jazz is clearly no longer a boy's club. Feel the revolution soar as it takes flight.
comments powered by