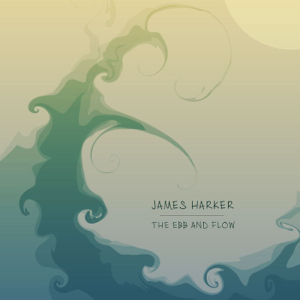 6 February 2016
I swooned over 2012's The Red Room, the debut LP from this Sheffield, UK-raised singer/pianist, actor, and film composer (whose bio also credits him as a gin and wine seller, Royal Family caterer, and medical administrator!), calling it "spellbinding and enriching" in Big Takeover issue 70. Since then, he's released 2013's alluring Anecdote EP and a couple of singles, and formed the electronic pop duo Vast & Harker with producer Vast; the latter also co-produced and mixed this second full-length. On it, Harker's songwriting has gotten more concise: whereas eight tracks on The Red Room exceeded the five-minute mark (with three topping seven minutes), only one does here. As well, it's more personal and soul-searching than its more whimsical predecessor. The result is an album that makes an impact almost immediately.
The Ebb's early going contains its most memorable, optimistic numbers, such as the jaunty, Belle & Sebastian/Divine Comedy-like "Alligator," on which Harker attempts to defend himself from a picky, pestering partner, and the more passionate, pining Joni Mitchell/Nick Drake/Nick Garrie-esque "Iburndale." Those two are sandwiched around The Ebb's most bedazzling and breathtaking tune: the magnificent, Granite Shore-evoking "Swanbourne." With sweeping, succulent strings and sonorous, softly-plucked acoustics supplementing Harker's graceful, affectionate croon and Jonathan Kerridge-Phipps's poetic lyrics, "Swanbourne" is orchestral pop of the highest magnitude, and a song you won't be able to stop playing.
From there, the album turns more inward looking and introspective. Harker admitted on his Facebook page that he "wrote this album in the middle of a painful time," and The Ebb's second half often finds him grappling with gut-wrenching goblins. On the vividly narrated "Ferry Lane Bridge," he morosely relates melancholy memories from his childhood and teenage years, while on the tempestuous "Fisher King," he vents a litany of life frustrations following what appears to be a ruined relationship. Elsewhere, on the resolute and reflective "Canute," Harker ponders how he's going to be remembered, as a "king who stood so boldly" or as "a fool who was washed out to sea," while on the anguished "Kayopo," he wrestles with loneliness and anxiety, pleading with himself to "show some courage." The peaceful, late-night jazzy "And Then, Winter" finds him once again seeking salvation, complementing his tranquilly trilled piano with a heavenly, Brian Wilson-educing falsetto.
Finally, the two thematic, mood-setting instrumentals that bookend the LP, "The Ebb" and "The Flow," along with a more truculent third, the stately "A Current Under Sea," blend Harker's sumptuous, sensitive piano playing with Sam Sweeney's sad, sweeping fiddle and a calming, candlelit ambience. Each one makes you feel like you've chanced upon a captivating, 18th century classical recital. Even when Harker displays a dour disposition, he still summons up plenty of that stylish, sophisticated olde world charm on The Ebb. (jamesharkermusic.com)
comments powered by