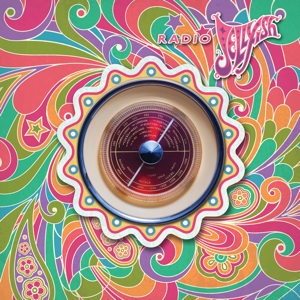 8 December 2013
Omnivore has been good to fans of 90s alternative pop princes Jellyfish. The label released the revealing and eminently listenable Stack-a-Tracks last year, including mostly-instrumental backing tracks from 1990's Bellybutton and 1993's Spilt Milk. Jellyfish now belongs to the ages, but Radio Jellyfish documents the short-lived but influential quartet's everyday efforts as a working band. These ten tracks were recorded during visits to morning radio shows in Holland and Australia while supporting Spilt Milk. The band may have been bleary-eyed and yawning, but you wouldn't know it from this set.
Radio Jellyfish is as reveling as Stack-a-Tracks, in an entirely different way. While last year's release explored the band's unerring instinct for lush and psychedelic pop arrangements, Radio Jellyfish presents the essence of the band. Stripped to vocals, acoustic guitars, piano and light percussion, we're now listening to Andy Sturmer and Roger Manning's command of the fundamentals. Lee Lodyga's liner notes put it perfectly: If jellyfish had skeletons, "these recordings would be the bones."
"Joining a Fan Club" is no longer a bombastic reach into the territory of Queen's "Bohemian Rhapsody." Now, it's a study of clever songwriting twists and melodic craft. It's also a showcase for the band's uncommonly tight vocal interplay, with three voices in close harmony supporting Sturmer's gritty lead.
Five tracks from Bellybutton include signature songs like "The King is Half-Undressed." The sublime pop of "That is Why" is reinvented as a feature for Manning's elegant piano. Even with the acoustic guitars of Eric Dover and bassist Tim Smith subbing for the departed Jason Falkner's arresting solo, the song bristles with the energy of a tune that should have been an international smash. In another universe, it might have been one of Harry Nilsson's biggest.
Including the aforementioned "Joining a Fan Club," Spilt Milk is represented by three songs. Also here is the cartwheeling waltz of "New Mistake." The number 9 Modern Rock single "The Ghost at Number One" probably loses the most punch when translated to the unplugged format, but its sweet call-and-response vocals remain a wonder. As a minor complaint, the set might seem better rounded and balanced if it also included cheeky Spilt Milk single "He's My Best Friend."
A pair of cover songs include the psychedelic pop of The Move's "I Can Hear the Grass Grow," the lone track on Radio Jellyfish to have been previously released (on the out-of-print Fan Club box set). A staple of Jellyfish's live show, Badfinger's "No Matter What" fits the band like a glove. Sturmer digs hard for a soulful vocal. Between-song banter completes the experience, transporting the listener to a time when some of us still had analog radios. Dial that needle to the perfect frequency, and spend 38 minutes listening to crystal-clear Radio Jellyfish.
comments powered by