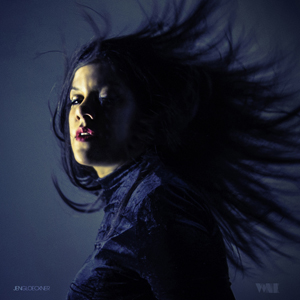 25 July 2017
I've been sitting on this record for several months, and this review is behind schedule. Apologies to the publicist for my late delivery. Jen Gloeckner is an Iowa based artist who recorded this gem of a record in her bedroom. When you hear its rich, lush layers, it will seem inconceivable that it wasn't recorded in an expensive studio. Jen's music is a technicolor, acid-washed daydream, both trippy and expansive and cinematic in all the best ways. Assisting her in this effort were John Ashton (Psychedelic Furs), Henry Padovani (original guitarist and founding member of The Police) and Angela Mattson (In The Valley Below). Vine was mixed by Brian McTear and Matt Poirier at Miner Street Recordings in Philadelphia. The title song introduces you to Jen's magical wonderland of sparkling sounds, a mix of heavenly layers, found sounds, and her lovely vocals. It snares you with its sticky strands of sound, and you are held rapt for the entire recording. "Row With the Flow" reminds me a bit of Beach House, inhabiting the same widescreen, keyboard-driven space as that great Baltimore band. It is a sound carved out of space and time and held shimmering in your mind. "Sold" is mesmerizing psych pop, and has a gorgeous bridge.
"Firefly/War Dance" dashes off in a psych-inflected post rock direction and charges at you full tilt. It is a swoon-worthy dive into some very trippy passages, so be prepared. "Breathe" changes the scenery into glamorous, late 80s noirish trip hop and even lets in some proggy elements. Nice! "Ginger Ale" is the early single, and it's a beauty, once again veering toward Victoria Legrand territory. You may also be reminded of Florence and The Machine's loftier material, the kind that transcends earthly delights and soars sonically into the cosmos. Grand! "The Last Thought" hearkens back to some of Kate Bush's lighter material, with some pretty piano passages and a bit of a global feel in some of the instrumentation. "Blowing Through" is an equally lovely piece, and there is a scattering of flute and violin in the mix. Interesting stuff. "Prayers" takes on Alison Goldfrapp and does her one better, for Jen has a rich arsenal of her voice, instrumentation, and gorgeous songs at her command. "Colors" is the final piece here, and it's quieter and a bit contemplative, a good soundtrack for musing about life. In short, this is a wonderful recording stuffed full of beautiful songs that will keep you engaged for a very long time.
Catch up with Jen on Facebook and over at Bandcamp.