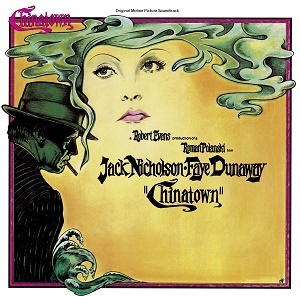 24 November 2016
According to lore, Chinatown's producer Robert Evans disliked Phillip Lambro's original score so much, he hired Jerry Goldsmith to compose an entirely new one. Given only ten days, Goldsmith produced a masterpiece, allowing Roman Polanski's film to fully achieve perfection. For the first time in over forty years, that soundtrack is available again on vinyl.
If you've seen the movie, you know the impact the music has on the imagery. On its own, however, the score elicits all the film's emotional power through sheer sound. Chinatown brazenly straddles both classical music and jazz, juxtaposing elegant, serene passages with dissonance recalling both Bernard Herrmann and Robert Graettinger's compositions for Stan Kenton's City of Glass. Solo piano interpretations of jazz standards "Easy Living" and "The Way You Look Tonight," as well as Bunny Berigan's take on Ira Gershwin and Vernon Duke's "I Can't Get Started," remind us that we're in Polanski's version of 1930s Los Angeles amid the timelessness of Goldsmith's passion. It's beautiful, sinister, mysterious and graceful – everything that defines noir.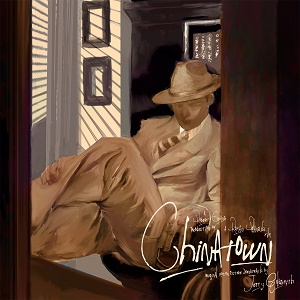 This essential reissue will be available in both the original cover art (pictured at top) and a special gold wax Black Friday Record Store Day deluxe edition (pictured above). No matter which one you choose, know that you will possess one of the finest film soundtracks of all time.
comments powered by