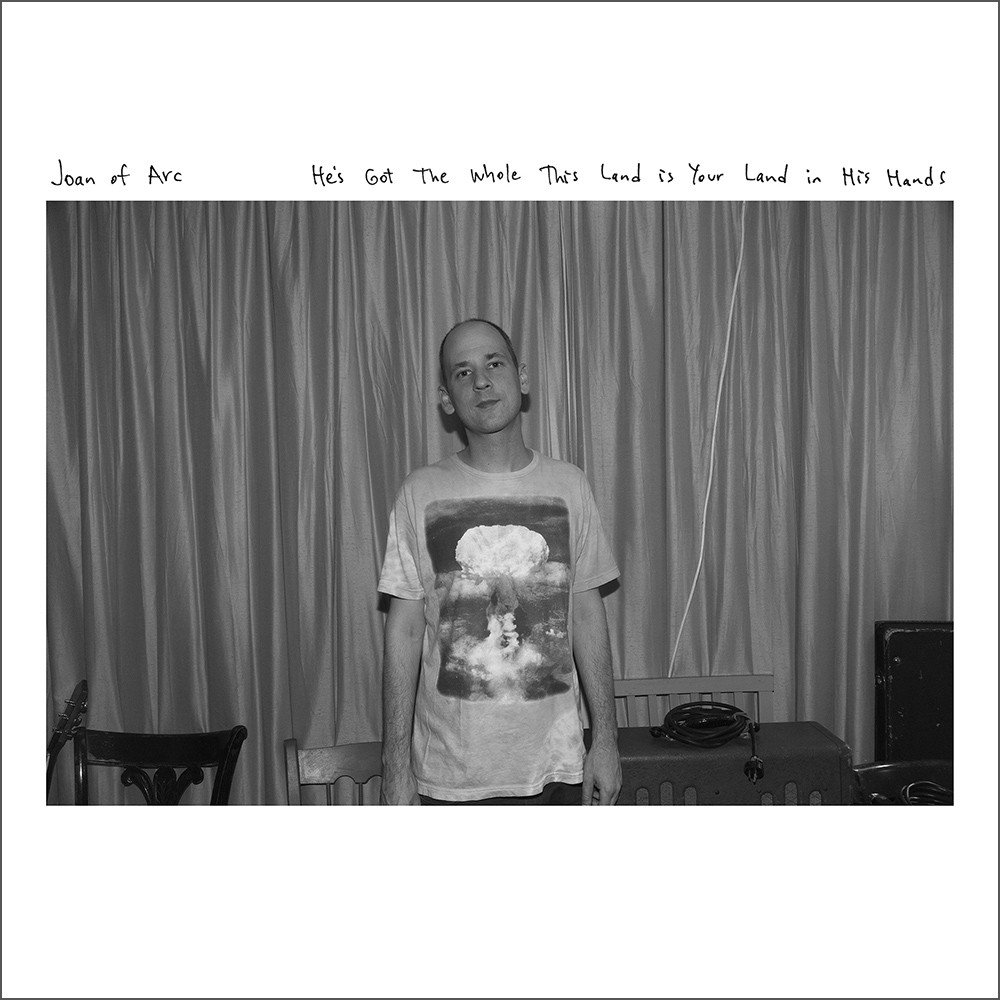 24 January 2017
Even when not armed with a guitar in bands such as Make Believe and Owls (first record only), Tim Kinsella's projects have all shared a common thread, be it the frequent implementation of odd time signatures, vocal intensity, or – most commonly – the sheer instrumental prowess. Whether armed with his trusted Guild SG or joined by one of the litany of uniquely talented guitarists in the Joan of Arc family tree, the compositional work is always something to remark upon. This Land is easily the most prominent departure from a traditional band setup, yet calling it his most "radical" project may be misleading because it would be unfair to call his other works as non-radical in approach. Still, drummer Theo Katsaounis appears to be the only member sticking to the traditional confines of his instrument's dictation while the rest of the group's modus operandi this time around is to make sounds as alien as possible. Bobby Burg still holds up a mean bass on many tracks, but it is far from constant on this album. At times, the results are incredibly groovy ("This Must Be the Placenta") and at others, it can be jarring ("Ta Ta Terrordome"). The seasoned Tim Kinsella fan knows to expect this when stepping into a new release, and it's never been a matter of bracing oneself because it's a collective that doesn't warrant fair-weather fans. What is occasionally unfortunate on their latest output is that the cohesion is only felt in the sense that certain tracks more closely resemble frameworks for songs rather than the fully constructed idea.
For instance, "Never Wintersbone You" features Melina Ausikaitis singing an assumed identity on Phil Collins, much like Stephen Malkmus did in "Jo-Jo's Jacket" with Yul Brynner, although the thought quickly becomes so abstract to the point that its tangents seem to wear thin, taking on an arbitrary quality. No matter which band he's occupying, Kinsella's lyricism has always embodied absurdism, be it humorous or cynical or both, but this song marks an occasion where for once the parts that make up the whole don't depend on each other so much, and it is in those moments on this album that feel weaker for having been made as such. "Ta Ta Terrordome" could be the abrasive answer to the closing minute of the nearly-titular track from So Much Staying Alive and Lovelessness, as Tim similarly reads from a poetic diary entry – this time, set to the backdrop of harsh looped industrial sounds.
This Land is best described as a grab bag, however. The run from "This Must Be the Placenta" through "Full Moon and Rainbo Repair" is an example of the kind of organized chaos that maintains the band's brilliance as being nothing imparted by accident. Given any assortment of boundaries, this ever-shifting group of Chicago musicians will find a way to balance their avant-garde leanings with conventionalism, no matter how slight. Returning member Jeremy Boyle shines on "Placenta," equipping it with a killer synth drone reminiscent of something from Battles' catalogue. Paired with Theo's steady drum beat, it hardly seems out of line from earlier JoA stompers. In fact, it's even… danceable. "Full Moon" may be the most compelling track the LP has to offer due to its impeccable ambivalence. Beautifully meditative and dreamlike, the same two note half-step – possibly the closest the album comes to achieving a melody – is repeated cyclically between guitar, piano, and accordion; granting a perfectly hazy and vague backdrop to match Kinsella's vocal introspection.
In a ranked understanding, Joan of Arc have just turned in what is easily their most "challenging" album since "In Rape Terror and Fantasy Sex We Trust", but in that same understanding, This Land marks a new avenue for which Kinsella and company had yet to explore. Having seen them perform at the Knitting Factory in Brooklyn last October, I can say that while this new batch of tunes appears disparate compared to their existing repertoire, they still felt comfortable busting out numbers as far back (and conventional) as "The Hands." That being said, Joan of Arc are the true grab bag, and what is retrieved may impossible to anticipate, but they never fail to excite.
Order the record here and check out the band on Facebook here.
comments powered by