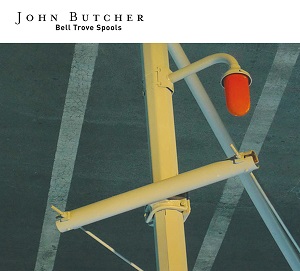 22 March 2013
Q: When is a saxophone not a saxophone?
A: When it's handled by John Butcher.
Adding to an impressive catalog of free music, Bell Trove Spools continues Butcher's legacy of Evan Parker-ish experiments in sound and space, where his tenor and soprano saxes morph into story-telling creatures. The air in the room, the reverberation on the walls and even the techniques employed by Butcher all become instruments of their own as he weaves his improvised tales of mystery.
"A Place to Start" sets things off with an exploration of tones. Notes are held as the sound bounces around the room, playing off the emptiness and creating a three-dimensional space for Butcher to work. "Padded Shadows" and "Willow Shiver" are almost more experimental/noise than jazz, using techniques and feedback to make the saxophone an otherworldly instrument. On "Perfume Screech," we get some blues that slowly evolves into blaring noise and bird-like chirps, eventually settling into a jungle-like atmosphere. "Unspeakable Damage" begins lamenting and builds to a angry screech, followed by "First Dart," "Second Dart," "Third Dart" and "Fourth Dart" in which Butcher's tenor sax becomes four distinct alien beings, each with a unique voice and story to tell. Finally, "Egg" is the birth of one of these fantastic animals, chipping away at its shell, making the whole larger and larger until it comes into the world and breathes a life of its own.
Bell Trove Spools is mysterious, majestic, magnificent. It creates a world of its own and then draws the listener into that world to experience all the amazing things it has to offer. Time to go exploring, Dr. Livingston.
comments powered by