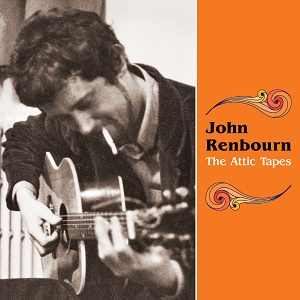 14 October 2015
Years before The Pentangle, even before his eponymous 1966 solo album, guitarist John Renbourn was a nineteen year old kid traveling the English countryside, meeting new friends and playing his guitar for anyone who would listen, all the while exploring and refining his finger-picking technique. Culled from tapes found in friend and occasional musical partner Mac MacLeod's attic, this collection documents that youthful period in his life when he was still developing as a musician.
Admittedly the sound quality can be a bit rough at times, but, then again, the songs on The Attic Tapes were never intended to be released. On these intensely intimate recordings, Renbourn explores the blues, skiffle and folk music that so influenced him, from contemporaries like Davy Graham, who makes an appearance on a rather exuberant version of "Nobody Knows You When You're Down and Out," to legends like Big Bill Broonzy, all the while pushing himself into the unique style that would define him. About half of tracks Renbourn's first album appears here in very early versions along with "Portland Town" by Derroll Adams, Bert Jansch's "Courting Blues" and Donovan's "Picking Up the Sunshine," sung by Beverley Martyn, who appeared on the cover of Jansch's sophomore 1965 album, It Don't Bother Me, as well as songs recorded with MacLeod for a demo. Though not perfect by any means, it's an essential piece of Renbourn's legacy and a testament to the folk scene of the time.
Unfortunately, John Renbourn passed away in March 2015 after completing this project, leaving us with the recordings of his birth as a musician. He will forever be immortalized by the beautiful music he left behind.