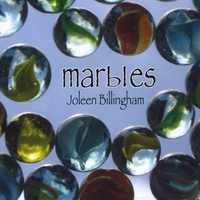 1 November 2011
Wheaton, IL-based singer Joleen Billingham puts her rich and versatile voice to work on Marbles. This independently-produced set also showcases Billigham's winning personality as a songwriter. The lyrical wordplay favored by neo-country star Lyle Lovett is turned back onto the artist himself during "A Face the Shape of Texas," which turns a collection of dubious compliments about Lovett's peculiar features into warmhearted reminders about the familiar places of the heart.
Billingham's voice ignites "Pale Shade of Blue," a slow-burning torch number that laments the uncertainty of love. The song's vulnerability is echoed in the melancholy saxophone of Robert Blazek. Pianist husband Bill Billingham provides impassioned accompaniment to the tender yearning of "Dance With Me." Billingham joins these introspective and lighthearted qualities during the rambling country-pop of "Sometimes," testing her own resolve and finding herself standing strong … well, most of the time, hopefully.
During the folky sway of title track "Marbles," a conversation unfolds between an institutionalized child and her mother, hinting at big questions, fading innocence, and family secrets. An understated gospel-styled piano underpins "Pliable," in which Billingham reflects upon the ways people can become less yielding and open with the passage of time.
Despite the concerns expressed during "Pliable," these songs are unguarded, insightful and full of spirited charm. That Billingham has the vocal chops to deliver them with conviction is far more than icing on the cake. Marbles is well worth a listen for fans of female singer-songwriters ranging from Carole King to Alison Krauss. The talent on display here is worth sharing beyond its hometown roots.
Marbles is available on CD from cdbaby.com, and available via digital download at iTunes.com.
comments powered by