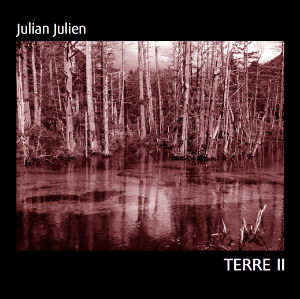 4 October 2015
I want to say up front that I don't commonly review jazz albums, nor do I have great knowledge of that musical genre. But I do know what I like, and I certainly have enjoyed listening to this album that was sent to me for review. Julian Julien is a French jazz composer and saxophonist who has created a lovely, atmospheric jazz album with classical and world music overtones. Joined by a host of talented musicians on flute, clarinet, strings, and brass, Julien has produced a wonderfully captivating album. Julien has traveled all over the world, and this has informed his musical oeuvre. Citing musical influences ranging from Keith Jarrett to film composer John Barry (who has a song with his name on it here), this album contains a wide-ranging palette of musical compositions. The concept behind this project attempts to harmonize music with the world of photography. Well-known musicians and photographers have collaborated on it, including musicians Médéric Collignon (2013 Jazz Victory) and Rémi Dumoulin (National Jazz Orchestra), and the English photographer Chris Steele Perkins (Magnum agency).
"Prélude" opens the album and is mysterious and entrancing with flute floating lightly over an ominous sonic foundation. "Terre II" has lilting clarinet meshed with what sounds like a harpsichord and some great trumpet playing. It is upbeat and really draws the listener in. It returns at the end to the opening theme, reminding me of much longer suites, only in miniature. "Iris I" is darkly compelling, short, and experimental, containing interesting sound bytes coupled with stark piano and cello. "Ailleurs" is floral tapestry, populated with the dancing notes of a flute and punctuated by horns and interesting percussion. The discordant bleat of a horn slightly disturbs the flow and grace, as I suspect it's meant to. I hear saxophone in my left channel while flute emotes in my right channel. Quite the interesting separation of sound here. "Iris II" is roughly the same length as its predecessor "Iris I", but its cinematic span suggests exotic locales. "Iris III" reminds me of music from UK series The Fall, and it is both mesmerizing and creepy.
"Une Attente" has the only vocals from Hélène Argo, and it has that classic, noirish feel from spy flicks. Only, the cello makes it rather more mournful than anything James Bond would have to deal with. "Doudou" has a slight Middle Eastern feel, and is quiet and contemplative. "Iris V" hops along with help from synths and beats, propelling it more into the experimental jazz area than some of these other sketches. "Non-sens" is much longer and stretches out to nearly eight minutes. It is spare and minimalist at first, then it picks up at around three minutes with trumpet and percussion. It curls back into itself with only keyboards and occasional drum beats percolating through at its end. "Iris VI" is another minimalist sketch, and is barely a minute long. And finally, we get to "Mr. John Barry", which might be a tribute to this favored film composer. It has the earmarks of some nifty world music and hearkens back to the swinging 60s just a bit. I love when the horns join in, especially the wonderful saxophone work here. All in all, this is a very pleasant, well-conceived, and carefully composed album that will please fans of melodic jazz and ambient music.
comments powered by