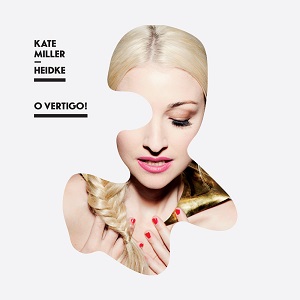 7 January 2015
After seven years with Sony followed by a robust fan-funding campaign, Australia's Kate Miller-Heidke independently releases her fourth album, highlighting her vocal talents as well as her pop sensibilities.
O Vertigo! is playful and fun, the fairy-tale world of a young woman experiencing life and coming into her own. Ranging from Taylor Swift humor in "JImmy" and "Drama," the latter featuring Australian rapper, Drapht, to Stevie Nicks strength in "Ghost," featuring Megan Wahington, and "Sing to Me," Miller-Heidke delivers a solid spectrum of emotions made ever-so-convincing by lavish production and top-notch musicianship around her amazingly vibrant vocals. It's the smart alternative to standard processed Top 40 fare, where risks are allowed to push the songs in directions that would otherwise be ignored.
Amid the vapid wastelands of popular music, there are few oases in which to reside. Kate Miller-Heidke offers one such bastion of solace away from the inanity of Kardashian culture.