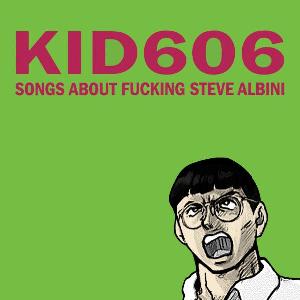 23 February 2011
I remember Kid606's music as being more along the lines of hardcore techno, with heavy usage of breakbeats and samples. I haven't exactly followed his career, but I'm surprised by this outing, which shares more in common with, say, the more recent solo experimental guitar loop albums of Richard Pinhas than Delta 9.
More precisely, Songs About Fucking Steve Albini could be called an extension of Disc, Kid606's collaboration with Lesser and Matmos whose tracks were formed from scratched (or otherwise altered) digital media, i.e., CDs and DATs, and their broken respective players. Rather than the teeth-clenched/white-knuckled fury of hardcore electronic beats and jungle insanity, these tracks are sprawling ethereal soundscapes that are most definitely rooted in electronica, though bearing little resemblance to aggressive, thumping dance music. In fact, it's more like a complete deconstruction of dance music to its extraneous elements, like the beats that propel the music have been removed, leaving only the strange sounds and effects that garnish the track as the main focus.
Three songs definitely stand out here. "Lou Reed Gimped" (all the song titles are anagrams of Miguel De Pedro, Kid606's real name) actually sounds like a nightmare memory of Lou Reed's Berlin – very creepy. On the other hand, "Deep Lid Morgue" is almost a straightforward noise piece rooted in darker, harsher sounds than most of the other tracks. Finally, the closing "Die Rumpled Ego" is probably the closest thing to Kid606's hardcore electronic sound on the entire album, though the beat tempo seems to be turned up so fast that it becomes a very soothing monotone.
So if you're tired of the same old incessant 4/4 to the floor thumping that is the staple of conventional dance music, give this disc a try. Or listen to it when you get home from the club to relax in a wash of Erik Satie-like minimalism.
comments powered by