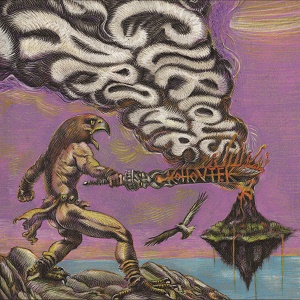 11 November 2015
DC/Philly-based improvisers, Kohoutek, add to their legacy with two sides of mind-expanding psychedelia.
"Part I" of Curious Aroma establishes the setting with instruments speaking to each other in secret drones that slowly unfold through hushed conversation. Eventually, guitar emerges over the shadowy percussion and subtle noise, rising, cresting and falling back just enough to allow whispers to carry on in quiet frequencies. On the other side," Part II" begins on a much brasher note as a looping bit of guitar delay barks over satanic atmospheres, slowly building to an ecstatic spacerock haze driven by pounding, heavy rhythms and soaring, fuzz-laden guitars. The tempo shifts, stretching out time as twisting sonics morph into tribal, post-industrial hypnotics. It's Bardo Pond via Acid Mothers Temple with the early krautrock insanity of Tangerine Dream and Ash Ra Tempel as reference.
Listen to Curious Aroma on repeat because you'll only get the cyclical structure of it all once the first side follows the second and you realize you can actually climb out of the psilocybin swamp before "Part II" drags you back down to where you were. Dive into a shimmering vibration and wish you could stay there for the rest of your life.
comments powered by