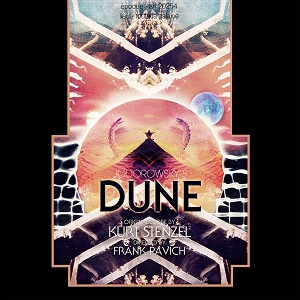 11 November 2015
Kurt Stenzel's heady electronic soundtrack for Frank Pavich's 2013 film, Jodorowsky's Dune, finally sees an official release that stands on its own as a classic of electronic music.
Driven by Pavich's concept of a Tangerine Dream-like score, Stenzel weaves an elegant pulse built on vintage synths, cheap keyboards and toys. Arpeggiation gives way to drone, while atmosphere extends and contracts in a sonic black hole. Elements of Cluster's ambiance glide with John Carpenter's more minimal compositions, creating a sound borne from the past, but conceived in the future. Robots dance, and computers communicate in an ancient language unique to electronic circuitry. It's a stunning recording, whether you've seen the film or not.
According to Kurt Stenzel's liner notes, he "already had a lot of library music from many years of strange experiments" when first approached to compose the soundtrack in 2011. Hopefully, we'll hear more of these in the years to come.
comments powered by