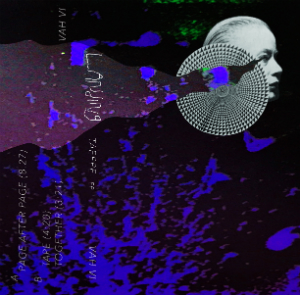 18 June 2017
New Haven's Landing have quietly prepared three new recordings of their mind-bending but gentle, droning psychedelia. They are releasing this as a limited cassette run of 50 to be sold at shows this summer, and are otherwise making it available digitally on Bandcamp. Taeppe, which means blanket in Danish, continues the band's tradition of EP releases that mesh together their most recognizable modes. As the press release describes, 'this batch of songs is meant to surround and comfort the listener with fuzzy vibrations and soft tones'. As with the enchanting Complekt, the three songs here are equally entrancing, both in long ("Page After Page") and short form ("Together" and "Tape").
I gravitated to "Together" first and it's a solid choice for a single. It floats and flirts with your ears, and Adrienne Snow's vocals twine with her husband Aaron Snow over twinkling fuzz tones and silky instrumental passages. Credit is also due to the pulsating rhythm section of Daron Gardner and John Miller. Call it dream pop if you will, as it reminds me slightly of the work Slowdive is doing now, only one step further on the experimental scale. It's not as glossy, but it's equally gorgeous. "Page After Page" is the long, meditative opening track that the band based on an improvisational session with Kryssi Battalene (The Mountain Movers, Headroom, Medication). It was recorded live to tape at Best Video in Hamden, CT. It will surely suck you in with its siren tones that unfold slowly, like a velvet, red carpet unrolling over billowing clouds. Adrienne's dulcet voice is tempered by trippy effects and it all works so well. Just perfect! And the third entry in my short playlist is "Tape", which resides on side B of the cassette. It's a sonic wonderland of dreamy guitars and layered with Adrienne's soft vocals. It passes by like clouds scudding against a summer's sky. Perfect music for daydreaming and lazing away the coming summer days. Highly recommended.
Catch up with the band on Bandcamp or over on their Facebook page.