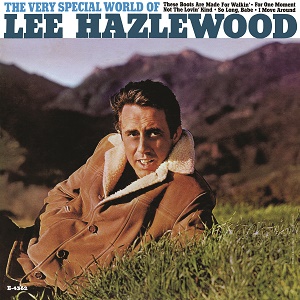 21 January 2016
Cajoled out of self-imposed early retirement by a young Nancy Sinatra, Lee Hazlewood returned with his fourth solo album and first for MGM in 1966. Accompanied by the lush arrangements of Billy Strange, it marked the triumphant return of the cowboy crooner with songs of aging, love and doomed relationships.
Very Special World opens with the starkly emotional, yet absolutely beautiful "For One Moment," where the pain of losing a lover subsides for an instant in the memory of that love, all to a tumultuous musical backdrop. Lighter fare follows with "When a Fool Loves a Fool," a jaunty tune punctuated by Tijuana Brass-style horns, before sliding into the smooth bossa nova jazz of "Not the Lovin' Kind." "Sand," a duet with Hazlewood's girlfriend, Suzi Jane Hokom, tells the tale of the apocryphal wandering man to softly trotting dust bowl pop. "My Autumn's Done Come" candidly discusses aging, possibly a metaphor for Hazlewood's attempt at retirement, and "These Boots Are Made for Walkin'" not only gets the sneering male perspective it was originally written for, but also comes with humorous asides from the singer about the original recording session with Nancy Sinatra. Later, a jilted lover triumphs over his pain by traveling the world in "I Move Around." It's startlingly honest, heartbreaking at times, but consistently engaging.
Hazlewood would go on to do two more albums with MGM before they finally realized they couldn't market him and gave him the boot – not that he minded, of course. Regardless, Very Special World stands out as a shining high point in the versatile songwriter's career.
comments powered by