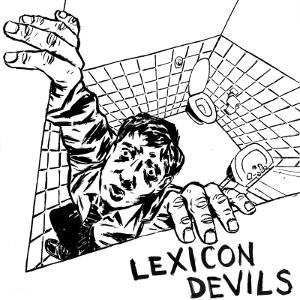 18 July 2013
From the current hotbed of genuine punk rock that is Italy, Lexicon Devils blast through your stereo with all the frenetic energy of 1980.
Four songs clock in at slightly over six minutes – you know what you're in for. This Roman trio was weened on the first three Ramones albums, as well as the Dangerhouse and What Records? catalogs. The result is somewhere between Middle Class, Group Sex-era Circle Jerks and The Adolescents. If they'd been around 33 years ago in LA, they would have fit perfectly on a bill at The Masque between The Eyes and The Germs, celebrating the chaos of a close-knit community fueled on disillusionment and intoxication. It's the kind of punk rock that makes you want to guzzle beer, jump around with your friends and enjoy life for that brief moment before the drudgeries of life weigh you down with headaches and ulcers you never asked for.
Italy has a long tradition of producing mind-blowing punk rock, from Raw Power to Wretched to Indigesti and Cheetah Chrome Motherfuckers. Somehow, though, it's this modern wave that resonates best with those of us who worship American hardcore punk from 1979-1982. Grab this 7" and play it over and over again and remind yourself that, although punk may be dead in your neighborhood, it's alive and well elsewhere.
comments powered by