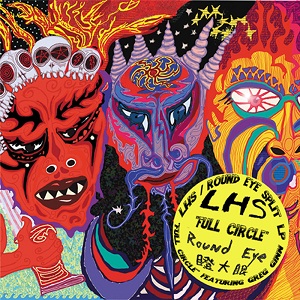 16 January 2013
This is one of those rare moments when I kneel down and genuflect in humble admiration for a contemporary hero. Unfortunately, it's a bittersweet celebration, as it marks the end of one of my favorite bands only to introduce another into my library.
Though an incredibly tight unit, Orlando, FL's Libyan Hit Squad (LHS) were truly the mindchild of bassist Craig Englund, a bizarro genius who completely embodies the SST spirit. Here, LHS deliver their swan song, six tracks of schizophrenic hardcore, their evolution coming to its ultimate pinnacle as the band who embodied Black Flag, The Minutemen, as well as the early '80s Boston hardcore scene, finally defines who they are, only to die in a frenetic blaze of glory. The opening "Blown Asshole" is 50 seconds of virtuoso hardcore, leading into the manic paranoia of "Rubber Shoes," which continues on "Brave New World" and "Faulty Bridge." On the instrumental "Full Circle," hardcore/prog guitar maestro Greg Ginn (yes, the man behind Black Flag) offers his six-string expertise, creating the ultimate Gone track in the process. "Lift Your Knees!" is LHS' final lumbering, jangly statement, the ultimate punk opera for a jaded generation, a middle finger to all who dismissed them because they couldn't figure them out, Mike Watt playing for Love…wow…
So the wizard known as Craig England moved to Shanghai, China to teach English and formed a new band. The king is dead, long live the king…
Round Eye's eponymous instrumental intro is equal parts Funhouse-era Stooges, '80s hardcore and expat insanity. "Kenting" and "I'm So Young" both draw from the likes of Dion, as well as The Beach Boys and Hawkwind. "Carne Seca!" is the sound of an American running free in communist China, while "Got Her Runnin'" somehow perfectly synthesizes it all into a cohesive statement.
This is it, folks – this is where east and west converge and suddenly it all makes sense even though it shouldn't. This is who we are, beyond the confines of cultures, borders and languages. This, my friends, is rock'n'roll. Bow down and revere, as it may lead you to a new path of discovery in your journey of life.
comments powered by