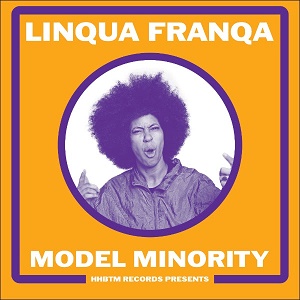 24 February 2018
Though hip-hop has historically been male-dominated, a few strong women have risen over the years to remind the boys that the girls can dish it out even better. Now Athens, GA's Linqua Franqa arrives with her first physical full-length, placing her firmly in the ranks of Queen Latifah, MC Lyte, Missy Elliott and even Nicki Minaj.
Drop the needle and Model Minority proves to be an instant classic. The production teeters between vintage Wu-Tang Clan, A Tribe Called Quest and psychedelic bad-trip Tarantino soul, providing a perfect backdrop for her strong, yet vulnerable, rhymes, which beautifully blend Ol' Dirty Bastard's seamless flow with Kool Keith's brilliant wordplay. Her subjects are real – maybe too real for the typical money-counting, girl-scoring braggart who takes up the trade. Here, drug abuse isn't something to be celebrated, but a very real issue connected, quite frankly, with the inner turmoil of suicidal depression. Sex isn't addressed directly, but through an honest portrayal of abortion, the inevitable result of irresponsible actions dictated by an unbalanced individual. That said, she also knows how to have fun as in the Method Man-like "The Good Feels" and "Gold Bike," which comes across as a fun poke at Kanye West. To top it all off, this vinyl release contains five more tracks than the original digital release, including several mind-bending remixes.
There's been a big void in positive female role models in hip-hop since Missy Elliot turned her focus to production. Nicki Minaj may use her sexuality as a weapon, but what about the more modest women in the audience? Linqua Franqa brazenly steps up as the answer. Take note, folks…this is the real thing.