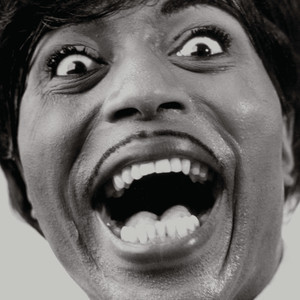 15 July 2016
Among his contemporaries, Little Richard was an icon. Elvis Presley released a cover of the screaming pianist's "Tutti Frutti" on his first album a year before Richard released his own 1957 full-length debut. Buddy Holly, a friend and admirer, would follow suit later that same year, adding "Send Me Some Lovin'" to his The "Chirping" Crickets album. Jerry Lee Lewis notwithstanding, The Sonics would never have existed without Little Richard, who would offer his own raucous renditions of "Whole Lotta Shakin' Goin' On" on these earliest albums. The man is an undisputed legend, so, to celebrate that status, his first five rock'n'roll records have been beautifully reassembled with their original cover art and remastered mono mixes for one of the most essential box sets ever released.
Primitively produced by today's standards but explosive nonetheless, his 1957 debut Here's Little Richard packs a wallop with a single double-sided punch. Hits like "Tutti Frutti," "True Fine Mama," "Long Tall Sally," "Rip It Up" and "Jenny Jenny" (later exquisitely covered by The Sonics) appear alongside equally impressive lesser known cuts, such as the soulful blues of "Can't Believe You Wanna Leave" and raw r&b of "Oh Why?" and "Baby." Powerful and gripping, it's no wonder Little Richard inspired artists on both sides of the pond.
The eponymous, sophomore 1958 effort continues in the same fashion, unleashing "Keep A Knockin'," "Good Golly Miss Molly," "The Girl Can't Help It" and "Lucille" on an unsuspecting population of rabid teenagers. Excellent renditions of "By the Light of the Silvery Moon," "Heeby-Jeebies" and "Baby Face" accompany bombastic originals like "Hey-Hey-Hey-Hey," "Ooh! My Soul" and "I'll Never Let You Go (Boo Hoo Hoo Hoo)." Little Richard was truly coming into his own…
…only the launching of Sputnik while on tour with Gene Vincent and Eddie Cochran convinced the rock'n'roll star to return to the gospel music of his childhood. He left the the tour early, only to learn that his original flight home had crashed, solidifying his decision. He left rock'n'roll, his label and his contract for the church, though, fortunately, Specialty had archived an album's worth of outtakes. 1959's The Fabulous Little Richard marked a significant change in Little Richard's sound. Rather than the rock'n'roll barrage that previously defined him, it contained soulful blues tunes, eschewing the screaming, wooping and piano ferocity of his previous efforts with few exceptions. Even the later overdubbed vocals of The Stewart Sisters couldn't ruin the vibe, as with "The Most I Can Offer (Just My Heart)," "Kansas City" and "Directly From My Heart." Elsewhere, the soothing "All Night Long," absolutely beautiful "Lonesome and Blue" and an early rendition of "Whole Lotta Shakin'" transform this cynical collection of demos into a true masterpiece. It's no wonder David Bowie listed it as one of his top 25 albums in his Confessions of a Vinyl Junkie.
A few years passed and Little Richard found himself in England facing an uninterested audience who wanted to hear some rock'n'roll. He quickly returned to his old stylings and dropped Little Richard Is Back (And There's a Whole Lotta Shakin' Goin' On!) in 1964. Not only was the production quality much better, but the arrangements embodied the proto-funk of early Stax releases. The resulting songs sounded like a blend of Otis Redding and James Brown, though with Richard's unmistakable fantastic flair. "Going Home Tomorrow," for example, features a biting fiddle solo and "Cherry Red" reeks of jazz, while "Memories Are Made of This," "Money Honey" and "Short Fat Fanny" all boast of bombastic syncopation. Mr. Richard Penniman was growing beyond the confines of rock'n'roll.
Now, it's true that rerecorded greatest hits collections are usually the worst of the worst, but His Greatest Hits, released in 1965, shines as the rare exception. Apparently culled from the same sessions as Little Richard Is Back, these renditions only push his rock'n'roll classics into the aforementioned proto-funk territory. Thus, "The Girl Can't Help It" and "Oh My Soul" sound like they're backed by The Famous Flames and "Slippin' and Slidin'" sets the stage for Otis' quasi-reggae rendition. It's an amazing record that deserved to be recognized on its own merits.
Little Richard inspired everybody who ever mattered, from John Lennon to David Bowie as well as countless artists both inside and outside that box. Turn the volume dial as far as it will go and find out why. Your head will literally explode.
comments powered by