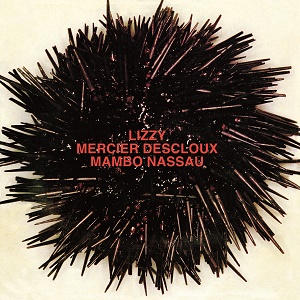 22 February 2016
For her 1980 sophomore effort, Parisian New Yorker Lizzy Mercier Descloux traveled to Nassau, Bahamas with the goal of bringing Island and African rhythms into her unique post-punk sound. The resulting album proved to be a successful chapter in the young artist's legacy.
Characterized by driving funk beats and Descloux's distinct vocals, Mambo Nassau expands on the ideas established on 1979's Press Color by adding afrobeat and dub reggae into the mix. Irresistible Fela Kuti-like marches mingle with more avant-garde fare like the twisted circus music of Nino Rota's "Milk Sheik" and the "Fever"-ish jazz of "It's You Sort Of," while "Payola" and "Slipped Disc" bare a touch of The Slits. At the center, Kool & the Gang's "Funky Stuff" eccentrically celebrates Descloux's skewed vision of dance music. A six song demo later recorded in Paris to garner record executive attention rounds out this reissue with a soulful rendition of Bob Marley's "Sun Is Shining" and the closing P-Funk/Was (Not Was)-inspired anthem, "Don't You Try to Stop Me."
In such a short amount of time, Lizzy Mercier Descloux had shifted from gritty no wave icon to funk queen. In 1983, she would even see some success in the pop charts with her third LP, but, here, she simply basks in the sun, swims and records for pure passion.
comments powered by