5 December 2009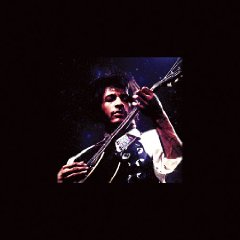 Poor LOVE and ARTHUR LEE. If there's such a thing as the curse of a masterpiece, they suffered it. As creators of Forever Changes, one of the most justifiably acclaimed and iconic psychedelic recordings of the 60s, Lee and whatever musicians with which he surrounded himself would find any work done since compared to the signpost and inevitably found wanting. This has led to most of Love's post-_Changes_ work being dismissed as inconsequential on the face of it, which, to my mind, is unfair. Sure, the late 60s Love albums aren't as good as Forever Changes, but how could they have been? Like so many landmarks, that album was the result of a particular time, place and set of circumstances coinciding with a peak in the artist's talent – recreation or even emulation is impossible. So let's not judge Lee's later work solely on the basis of his personal apex, but on the quality of the work itself.
Which brings us to Love Lost. Recorded in 1971 as part of an ill-fated deal with Columbia Records, this album (allegedly to be called Dear You) would later be cannibalized for Lee's solo debut Vindicator. As with most of his later music, Lee's songs rest in bluesy hard rock settings, a milieu which may not allow for the subtleties inherent in his more celebrated work, but is nonetheless effective. The pummeling "Product of the Times" (appearing as a studio recording for the first time), the lustful "He Knows a Lot of Good Women" and the amazing "I Can't Find It" tremble under the attack of particularly ragged arrangements, but never fall – Lee's songsmithery can withstand such rough treatment. Topped with Lee's near-maniacal vocal performances (a subject of some controversy, due to suspicions that Lee was deliberately sabotaging the recordings), the tracks blaze with energy and excitement. It may not be Forever Changes, but it's still great rock & roll.
Making a good thing even better, though, is the inclusion of nearly a half-dozen demos, with Lee backing himself on acoustic guitar so percussive it makes a full band unnecessary. "He Said She Said," "Sad Song," the lascivious (and, by today's standards, politically incorrect) "Good & Evil," which also appears in electric form, the previously unreleased "For a Day" and especially "Love Jumped Through My Window" (which opens this record) are all stellar songs, strong in both melody and performance, which is again somewhat – deliberately? – rough and raw. Love Lost may not be as flat-out brilliant as Forever Changes, but it holds up nicely on its own as a worthy chapter in the book of Love.
comments powered by