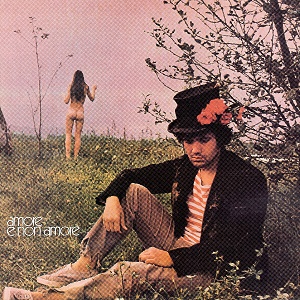 6 October 2016
In July 1971, Italy's premiere singer-songwriter Lucio Battisti delivered an unprecedented concept album that would ultimately be the turning point in his career. Fully remastered and officially licensed, that album is finally available in the US in its original vinyl format.
Amore e non amore brazenly juxtaposes rock-oriented "non-love" rock songs with lush cinematic instrumentals for the "love." When in "non amore" mode, the songs reside in heavy psychedelia while also recalling Joe Cocker and pre-Ziggy Stardust David Bowie, as well as the quieter moments of keyboard-heavy early prog like Procol Harum and Emerson, Lake & Palmer. The "amore" instrumentals, on the other hand, delve further into prog with hints of King Crimson, Alain Goraguer's heady compositions and modern classical music, not to mention piano passages reminiscent of Keith Emerson's later soundtrack for Dario Argento's exquisite film Inferno. It's something truly unique, but enhanced by the exotic language barrier.
Lucio Battisti would go on to become one of Italy's most popular singers, but that success began here. Hear it again, or for the first time, and revel in its artistic majesty.