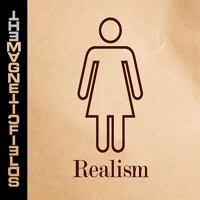 28 January 2010
This is the concluding volume in the band's "no synth" trilogy, and mostly (there is electric guitar on one track, "The Dada Polka") harks back to the acoustic format of the first volume, I. After Chinese opera, JAMC distortion, kid lit, and other STEPHIN MERRITT tangents in the past six years, at first this seems like a familiar sound, especially on the opening track.
But this is hardly a return to the group's classic '90s style (Merritt has hinted that such a return may be forthcoming on the next album). Instead, this album was inspired by Merritt's image of '60s folk music – big-production folk with dazzlingly complex arrangements. There's everything from accordion to zither, banjo to sitar, bouzouki to tuba, giving each track a distinct sonic personality. There's also relatively little percussion, and no standard drum kit; what there is sounds gentle.
As is so often the case in Merritt's songs, the lyrics range from cleverly witty to wrenchingly dark ("Seduced and Abandoned," in which a pregnant bride finding herself forsaken at the altar plans to drown her sorrows "and the baby too" in a drinking binge). Merritt shares lead vocal duties with SHIRLEY SIMMS and CLAUDIA GONSON. Whether silly or serious, the songs are catchy ditties that really do often sound like folk music. So ultimately it's another tangent, but it's a lot easier to relate to this one.