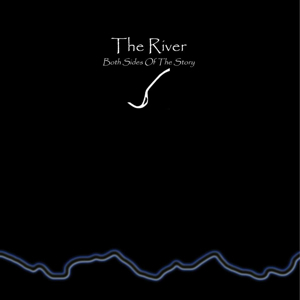 6 November 2014
Though this is Italian multi-instrumentalist De Angelis's first solo LP, his credentials are long and impressive. He's made soundtracks, produced many indie albums, worked for production companies, and even run his own Rome-based recording studio and label. Given his technical proclivity, it's no surprise that The River is such an expansive, mammoth-sounding album; it feels like it could accompany a stage or theatrical production. In keeping with De Angelis's main inspiration of '60s and '70s prog-rock, it's a 69-minute "concept" LP, designed to be experienced in one sitting – indeed, songs are often stitched together by samples of radio static, party conversations, audience applause, thunderstorms, and frogs croaking/crickets chirping.
However, The River leans more toward prog's less experimental, song-based 1980s phase – think of that era's Pink Floyd, Rush, or Genesis LPs. With its delay-drenched guitars and programmed rhythms (De Angelis plays everything except drums, which are handled by Cristiano Micalizzi), the album's instrumentation often exhibits that genre's extravagant and exaggerated embellishments. But De Angelis's presentation is passionate, not pretentious, and closer listens reveal more subtle, down-to-earth pleasures. Forceful, dramatic singer Marcello Catalano adorns each song with his lavish, wide-ranging voice. He effortlessly adjusts to De Angelis's shifting musical moods, and is ably supported by a quintet of soulful female backing vocalists.
De Angelis's plush, detailed arrangements and melodic pop songwriting touches are evident throughout. "Tell Me Why" features delicately-patted hand toms and an exuberant chorus, "Black Stare" sports a gorgeous, tender piano melody and a murky, pulsing rhythm, and "Snowbound" marries a ringing acoustic with dramatic keyboards and Catalano's airborne, elevating croon. Even "Fly High," with its syrupy "Don't be afraid to fly high" refrain, has a comforting ambience, intricate textures, and soaring vocals (especially Désirée Petrocchi's and Simona Rizzi's succulent backing coos). Elsewhere, "What Do You Feel Now?" and "Our Trail of Tears" combine glistening guitars with spacey synths; the latter is a newly-arranged, Catalano-written "bonus track" dating from De Angelis's early '80s first band.
His creativity is most apparent on the standout "Regrets." It opens with another lovely, candlelit piano trill, as a gentle clock ticks over a near-inaudible radio in the background. Catalano's soft, near-whispered vocal ambles in, complemented by De Angelis's ghostly Chapman Stick (he's one of the few Italians who play it) and resonant Dobro. The tranquil vibe gives way to what sounds like a keyboard-replicated horn section, followed by a decadent dose of squealing, electronically-treated '80s-era guitars and Catalano's now-anguished, spiraling pipes. And just when you think he's going to end the song with another quiet fade-out of sampled static, De Angelis instead hits you with a blasting, Marillion-esque guitar solo crescendo.
Despite its "concept album" tag, The River's lyrics don't follow a concrete or whimsical storyline – i.e., there are no pinball wizards or Unwinese-speaking comedians here. Instead, De Angelis's soul-searching, solemn words are pensive and ambiguous, and open to interpretation. They add yet another intriguing wrinkle to this challenging, rewarding album. (marcodeangelis.com, theriver.it)