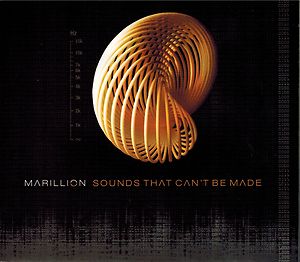 13 April 2013
Fans of British progressive rockers Marillion have grown to rely upon their heroes' ambitious nature, and vice versa. The band pioneered the crowd-funding movement, engaging a surging underground fanbase to enable both touring and recording. In return for the support, Marillion has offered dialog and access. More importantly, they've honored their fans' patronage as a sacred charge to pursue excellence.
The group's commercial heyday may be long past, but Marillion's most rewarding music has been made since vocalist Steve Hogarth became "the new guy" twenty-four years ago. None of the band's output in the current century has missed top marks for lack of high musical ideals, and there's not a bad record in the lot. Although 2004's Marbles stood as Marillion's high water mark for several years, it has now been topped.
Sounds That Can't Be Made is not intended for casual listening. The opening track, "Gaza" plays over seventeen minutes, and the album's eight songs maximize the capacity of a compact disc. "Gaza" itself runs a harrowing range of emotions, as Hogarth's expressive lyric and keening vocal tell the story of a shell-shocked Palestinian youth. It's a controversial point of view that may rankle Western sensibilities. Hogarth has stated that the song is not meant to advocate any sort of violence, but merely to ruminate upon the depths that "desperation inevitably leads." Another underlying theme is bound into the plaintive lyric, "Everyone deserves a chance to feel the future just might be bright."
"Power," by stark contrast, fathoms the depths of the heart to find that love (an emotion unnamed in the song) is a superior force to nature, political will, corporate might or technology. Mark Kelly's piano joins his alternately pensive and majestic keyboards to create heart-tugging passages against the strong and steady pulse of Pete Trewavas' bass.
The expansive "Montreal" is an uncommonly tender and picturesque love letter to the band's North American stronghold, describing scenes flitting about the edges of an international journey.
Guitarist Steve Rothery shines on rocker "Lucky Man," putting skill on display that should place him alongside greats such as Robin Trower and David Gilmour. Drummer Ian Mosley provides the perfect foundation throughout the album, playing with both sensitivity and power – always the right push, accent, silent passage or thundering fill at the right time.
Hogarth's empathetic performance on "The Sky Above the Rain" will be heartbreaking to anyone who has struggled and fought against the slow decay of a relationship.
Seventeen studio albums into its career, this is clearly a band that is not bored, running a treadmill, or resting on laurels. Some of the usual comparisons still apply, including Genesis, Radiohead, and Pink Floyd. At this point, the band deserves to be considered such an influence. Marillion continues to challenge and entertain both itself and its fans.
comments powered by