7 February 2008
With the staccato surge and somber vocalizing of DAF, the distorted synthetic soundscapes of DIRK IVENS' eeriest work, and the industrial strength of THE YOUNG GODS, MARTIAL CANTEREL's Refuge Underneath is a bleak intellectual exercise in the dark and danceable. Like other releases on New York City's icy hot Wierd Records [sic], the form is just as intriguing as the content. The cover, coarse and yellowed as if with age, features a black and white scene of remote ruins. The font, as if smudged by a hasty typist, only adds to the feeling of spare decay and cold inquisitiveness that permeates the music. The song titles attest to this, with names like "Lips Not Listening," "Drilling Backwards," and "Harbors & Martyrs." My interest was aroused well before I heard the sounds on the CD.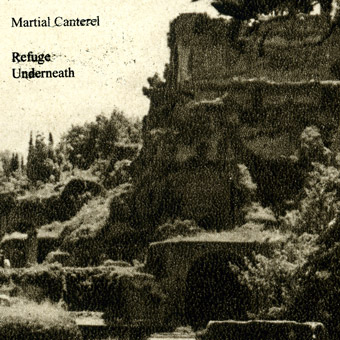 Refuge Underneath is culled from work previously released only on cassette tape and welcomes a wider audience for SEAN MCBRIDE, a pioneer of the new wave of minimal synth emerging in the States. But while Martial Canterel has links across the country and overseas, it is a decidedly New York City affair. The project was conceived in Brooklyn in 2002, and these days one can find McBride DJing or performing at Wierd Records' weekly Wednesday party, filling up the underground concrete cavern of Home Sweet Home with the inimitable strains of his vintage analogue synthesizers and sequencers. The eager and eccentric crowds that pack the room for his shows say a lot about Martial Canterel's appeal.
Unlike some minimal electronic music that's best suited for static contemplation, the songs on the album invite much more motion. They are surprisingly accessible for those (myself included) who aren't entrenched in the very rare recesses of the genre. The dark pulsing synth, melancholic vocal line, and whip-like crack of the drum machine on "Sister Age" are an invitation to indulge. Even listers into synth pop of the Top 40 variety would be hard pressed not to lose themselves on the dancefloor. And if your tastes are of the colder and crueler kind, "Two Before Four" is foreboding incarnate and "Hausmann" is the perfect aural approximation of jouissance. Unknown pleasures lurk in its sharp moments of pointed, squealing distortion, accompanied by tiny twinges of pain that signal the execution of each sound.
Simply put, if you revel in the smart, the sepulchral, and the spare, then this is most certainly for you. There are many ways to enjoy Refuge Underneath: both through corporeality and cognition, through dance and debate. But if you are suspect of such Cartesian dualism as some tend to be, you'll just thank McBride for appealing to all of your faculties on Martial Canterel's recent release.
And then you'll want more.
comments powered by