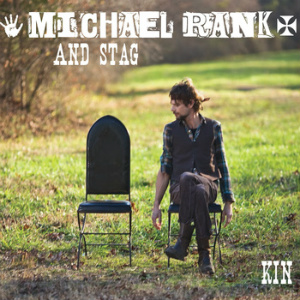 24 March 2012
It's been five years since Love is Dead, the last record by Michael Rank's long-running rock & roll band Snatches of Pink. A lot can happen in five years, and apparently one of those things was the dissolution of Rank's marriage. The result is Rank pouring out his pain, confusion and, ultimately, acceptance on Kin, the first record by his new outfit Stag.
Backed by current and former members of SOP (drummers Sara Romweber and John Howie, Jr., guitarist Marc E. Smith, bassist Daryl White), plus guitarist/lap steel player Alex Inglehart, Rank produces a mostly (but not exclusively) acoustic aura, with country and folk melodies featured prominently. That's hardly unusual in Rank's world – his last attempt to exploit acoustic guitars to this extent resulted in Bent With Pray, arguably SOP's masterpiece. But the enigmatic lyrics and hallucinogenic atmosphere of Pray are absent here – there's a directness to songs like "Pilgrims," "Tongue" and "On the Bleed" that speaks to Rank's need for uncomplicated emotional release. There's not much ambiguity in the line "Baby, you're a curse;" fortunately, blending that kind of matter-of-fact bitterness to the winsome country rock balladry of "The Eye Teeth" lets the strychnine go down smoothly. (Never mind the rusty ax guitar solo.)
It's not all heart-crushing darkness, though. "Here Comes the Light" offers noisy, defiant renewal, and the title track celebrates the joy of a child produced by the shattered union. As sad and angry as Rank comes across here, there's little in the way of self-pity – only catharsis. Both inviting and forbidding, Kin is about burning the bitterness to ashes, then sifting through them to find new, healthy seeds.
http://www.michaelrankmusic.com
comments powered by