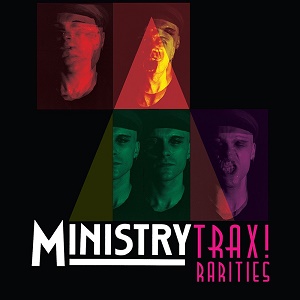 7 December 2016
Before Al Jourgensen became defined by the metal industrial sound he pioneered, Ministry began as a synthwave band blending elements of post-punk, goth and electronic krautrock into a unified sound. Now those mysterious origins are finally revealed in an essential collection of demos, outtakes, rare 12" cuts and live recordings, giving further insight into one of electronic music's most cherished icons.
Trax! Rarities opens with several live performances from July 1982 that recall "New Life"-era Depeche Mode if propelled by Killing Joke drumming and a Devo drive, all filtered through Joy Division and Bauhaus. Several demos follow, expanding the sound to include the likes of New Order, Culture Club and Psychedelic Furs. Later rough cuts reveal the sound that would come to inspire the likes of KMFDM and Front 242. Finally, super rare collaborations round out the release with songs by Revolting Cocks (the long sought-after "Drums Along the Carbine" and "banned" cover of Oliva Newton-John's "Let's Get Physical"), Pailhead (with Minor Threat/Fugazi's Ian MacKaye), PTP and 1000 Homo DJs (covering Black Sabbath's "Supernaut"). It's a perfect entry into the libraries of Ministry fans, both old and new.
Over the years, Al Jourgensen modified and expanded his sound to fit his moods as well as his sense of humor, but this is where Ministry began. Turn on the black lights, don the black clothes and raise the volume.
comments powered by