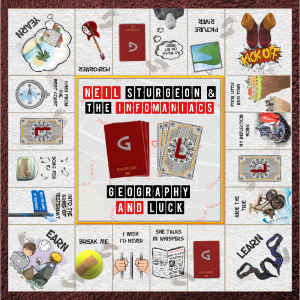 12 August 2018
Glasgow singer-songwriter Neil Sturgeon (formerly of Goldenhour) and his band of Infomaniacs have created a delightful new release, full of well-constructed hooks and excellent lyrics. The album was produced by Sturgeon and Teenage Fanclub's Raymond McGinley. The songs can be funny and sarcastic ('ten pound shit in a one pound bag') as in "Poor Little Rich Town", or the sprightly and catchy "NY Reflection Song", anchored by a lively banjo and some mighty fine strumming. As I move through this wonderful collection of songs, I am sometimes reminded of Neil Finn's excellent body of work, especially on "Ride the Tide". I cannot adequately describe the impact this song has on me, except to say it's sublime and evokes a sense of longing in me that rarely happens. "She Talks in Whispers" is another delightful confection, while "I Wish I'd Never" delves into lovely folk rock.
"Break Me" ratchets up the energy considerably and is a terrific tune, well worth its release as a single. "Into the Arms of Yesterday" sweeps me up in nostalgic reverie, reminding me of a rather ace release by The Finn Brothers (Everyone is Here). It is exquisitely crafted and sweet, revealing Sturgeon's amazing facility for penning one great tune after another. "Song for EJ" hearkens back to classic Simon and Garfunkel, and I am sighing happily as I type this review out. This is all so wonderful, and so incredibly rare in these Autotuned times.
"Hymn from the West Coast" is quiet and thoughtful, with Ray McGinley contributing on 12-string guitar. "Performer" flirts a bit with psych pop (a la Ty Segall) and is quite cool! "So Much On My Mind" is a jaunty foot stomper with some nice guitar work from Neil. "Picture River" is the final stop on this musical journey, and it's a fine way to close out the album. This record should be on everyone's best of 2018 list, and if you haven't heard it, seek it out. Brilliant work!
Buy the album here and catch up with the band over on Facebook.