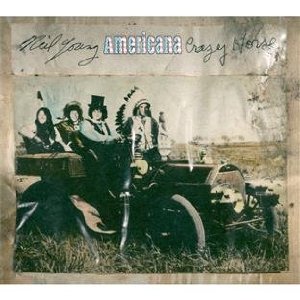 5 July 2012
You've probably heard by now that for his umpteenth album, Neil Young chose to sing (mostly) American (mostly) folk songs. It seemed like a good idea, and I wanted to like this album. I'm a huge Neil Young fan — I've even been known to defend the merits of Landing on Water. So yes, I wanted to like it, but I just can't.
Mostly it's Crazy Horse's fault. Not that Neil didn't make some bad decisions here, such as playing "Gallows Pole," one of the darker songs in the folk repertoire, as a cheery uptempo ditty. And he ultimately has to be blamed for letting Crazy Horse ruin the album, since it's not like he doesn't have the power in that band to say, "Shut up and just play your instruments." Certainly any normal person, hearing how they utterly fail to do justice to the backing vocals in "Get a Job," with the supposed bassman particularly egregious in his lack of range and tuning, would say just that. (It's almost inconceivable, listening to them now, that the members of Crazy Horse first came together in 1963 as a doo-wop band.) If only he had spoken that one sentence, I'd have enjoyed this album despite occasional missteps.
He didn't, though, and the result is agony. Two of the first three songs find the backing vocals repeating the titles of their respective songs so often as to be absurd. And when the guys in Crazy Horse aren't moaning along, the backing vocals are by a choir of children. At least they aren't deployed for maximum cuteness and sing in tune, but it's not a good effect; it's trivializing. I bet Emmylou Harris and Linda Ronstadt and/or CSN would've been happy to do the same work, and would've sounded much better.
The thing that's frustrating is that Americana is so close to being good. Scruffing up this material with grungy guitars and the ultra-basic rhythm section works well, and Neil really gets into most of the material in a very convincing manner — when Crazy Horse's chants of "Tom Dula, Tom Dula, Tom Dula" aren't gumming up the works, Neil delivers this murder ballad chillingly. The '60s standard "High Flyin' Bird" sounds especially good, and nothing can ruin Woody Guthrie's classic "This Land Is Your Land," not even the kiddies. Young's intimate rendition of "Wayfarin' Stranger" is haunting, and only marred slightly by the young'uns.
Too bad an awful, stilted trudge through the what-the-hell-is-it-doing-here "God Save the Queen" sends the album out on another disappointing note. The pathetic excuse for a martial beat that Ralph Molina lays on us is probably a treasonous crime in England.
Give me half an hour in the studio to wipe a few vocal tracks and either throw down a decent beat under "God Save the Queen" or delete it altogether and I'd happily play the result over and over. As it stands, though, now that I'm done listening for the purpose of writing this review, I can't imagine voluntarily revisiting anything on here again aside from "High Flyin' Bird."